'Insufferable' conditions at Muirhouse council flats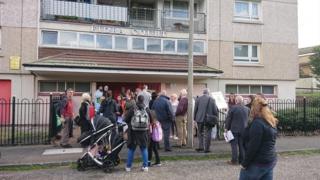 An urgent investigation will take place into the "atrocious conditions" dozens of council tenants are being subjected to in high-rise flats in Edinburgh.
Tenant union, Living Rent, has revealed at least 40 tenants at six high-rise council flats in Muirhouse are putting up with damp, mould and asbestos risk.
Residents said they have no point of contact for emergency repairs.
Councillor Graham Hutchison put forward an urgent motion at the council's north west locality committee.
The conservative councillor called on officers to investigate the scale of the problems, including how many people were affected and for how long residents had been "living in insufferable conditions".
'Most vulnerable residents'
He said: "This is urgent because we as a council are failing in our duty to help some of our most vulnerable residents.
"If this was a private landlord, there would be outrage. We have been handed a leaflet that says the council is a slum landlord and it would be very hard, having seen what we were shown in people's homes, to say that this wasn't the case."
The SNP/Labour council administration called for no action, which would have halted the investigation, pointing to a briefing paper that indicated work was already being done to address the situation.
Ward councillors, Cammy Day and Norman Work, along with Eleanor Bird and Frank Ross, failed in an attempt to block the motion for an urgent investigation.
The council will spend about £500m over the next 15 years to bring existing homes up to a new-build standard - including a "phased approach" to the six Muirhouse blocks.
Housing officers have completed face-to-face surveys with about 100 Muirhouse tenants, and residents will be invited to consultation events.
Graeme Brown, director of Shelter Scotland, said: "No-one should have to live in such atrocious conditions in 21st Century Scotland. Damp and mould are terrible for people's health, especially in children and elderly people.
"Councils should ensure that all their properties are of a decent standard and provide a safe and secure environment for their tenants."