Man hit by Edinburgh tram named by police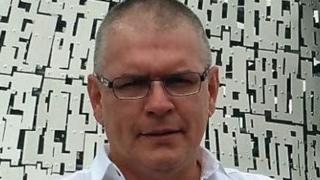 A man who died after being hit by a tram in Edinburgh has been named.
Carlos Correa Palacio, 53, was pronounced dead near the Saughton Tram Stop off Broomhouse Drive at 12.15 on Tuesday.
Services were disrupted with trams only running between Edinburgh Park Station and Edinburgh Airport, and from York Place to Haymarket.
The last time anyone was killed in an accident directly involving a Scottish tram was in 1959.
Sgt John Easton, of Police Scotland, said: "My thoughts are with Carlos's family and friends and we are providing specialist support to them, they have requested that their privacy is respected at this difficult time.
"This was a particularly upsetting incident for all those who witnessed it, both passengers on the tram and the driver.
"Officers spent considerable time yesterday both speaking to people at the scene and examining the tram, and we will continue to investigate to establish the circumstances.
"I am keen to speak to anyone who may have seen the collision but has not yet spoken to officers."
Edinburgh's new tramway was opened in May 2014 after numerous delays.
Previous recent accidents have been linked to the tram tracks rather than trams themselves.
In June 2017, medical student Zhi Min Soh died after the wheel of her bike became stuck in tracks on Princes Street in Edinburgh and she was hit by a minibus.
In June this year, a tram and a shuttle bus collided near Edinburgh Airport.