Child poverty action unit set up in Edinburgh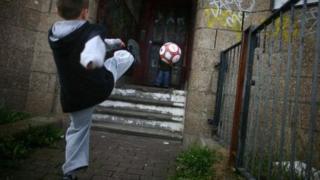 The city council has set up a child poverty action unit to help reduce the number of young people in Edinburgh living in relative poverty.
About 22% of children in Edinburgh live in relative poverty - defined as their household income being below 60% of the average income.
The council uses this as the benchmark for measuring poverty.
The Scottish government wants less than 18% of children to be living in poverty by 2023 and reduce this to 10% by 2030.
'Positive step'
The unit will not replace existing partnership arrangements but will instead co-ordinate the city council's action to address child poverty.
The unit will help form the council's annual local child poverty action report, which will be sent to the Scottish government from June 2019.
The cross-party group will also play a leading role in implementing actions set out by the Edinburgh Poverty Commission.
Ian Perry, Edinburgh City Council's education, children and families convener, said: "One of the administration's 52 commitments is the creation of a child poverty action unit to tackle the inequalities faced by children in poverty in Edinburgh.
"An estimated 22% of children are growing up in poverty in the capital and it can be as high as 35% in some areas so the agreement to set up the unit is a positive step forward.
"The work of the unit will build on existing partnerships and our ongoing 1 in 5 project which is proactively tackling child poverty, with leads in over 80 of our schools who are helping to reduce stigma and tackle the costs of the school day.
"Initiatives such as uniform swap shops, income maximisation advice and free sanitary products are all helping to raise awareness of child poverty and mitigate the impact in Edinburgh.