Developers get loans for nearly 350 flats in Edinburgh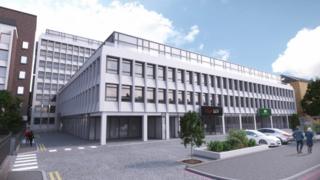 Two developers have secured more than £40m in loans to build nearly 350 flats in separate areas of Edinburgh.
Artisan Real Estate Investors has got £21m funding from Bank of Scotland to support its Canonmills Gardens 180 apartment scheme in Warriston Road.
Octopus Property has agreed to provide MCR Property Group with a £20m development loan, to convert a former office building into 163 apartments.
Planning consent has been secured to convert Chesser House in Gorgie Road.
It will be known as Elfin Square and will have 123 one, two and three-bed private apartments for sale, as well as 40 affordable homes.
Former B&Q store
Gavin Eustace, head of residential development at Octopus Property, said: "This is an exciting project to be involved with, in what is one of Europe's most dynamic and strong performing cities.
"We are particularly comfortable working alongside a developer with a track record of delivering high quality schemes across the UK and hope this is the start of a long and mutually beneficial relationship."
The private apartments have been renamed Embankment West, and will be sold by MCR Property Group's residential sales arm, Regency Residential.
Clive Wilding, development director from Artisan Real Estate Investors, said: "We're really excited about Canonmills Garden following our earlier success in Edinburgh.
"Having the backing of Bank of Scotland, the expertise of its team and their ability to help structure a tailored facility, has been pivotal to our plans."
Construction of Canonmills Gardens, which includes 45 affordable homes, is expected to be completed in March 2020.
The development is being built on the site of a former B&Q store.
Steven Edwards, relationship director for Bank of Scotland commercial real estate, said: "Edinburgh's centre is starved of new, good quality residential stock, which gives Canonmills Gardens an obvious appeal."