Council needs £2m to meet government allotment quota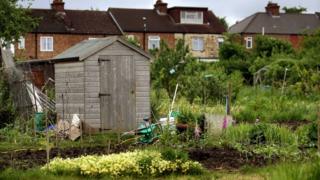 Edinburgh City Council needs to find £2m to build enough extra allotment pitches to meet Scottish government requirements.
Holyrood legislation states the waiting list for an allotment should be no longer than half the 1,552 allotments available in the city.
However, there are currently 2,697 people on the waiting list for an allotment in Edinburgh.
Some have been waiting for 10 or even 12 years.
Scale and number
A report to the council's Culture and Communities Committee, said: "An estimated £2m would be required to construct sufficient plots to meet the council's duty to keep the allotment waiting list at no more than half the authority's current number of allotments, and to ensure that a person entered on the list does not remain on it for a continuous period of more than five years."
Council officers said they had identified about 40 different locations across the city where allotments could be built - but high costs were a factor.
Hal Osler, councillor for Inverleith ward, said: "We are constrained by the size and land of Edinburgh.
"We can have space but it's the support around it that proves to be vital. Plots have been put in but there has not been the support structure around it.
"It's good that we are identifying land. We can identify space but the community could say, we don't want to use that space."
Amy McNeese-Mechan, vice-convenor of the culture and communities committee, said: "We recognise the benefits to health and well-being brought by allotments and community gardening, and have endeavoured to increase provision under allotment strategies over recent years.
"We do, however, appreciate the significant waiting list for allotments and are focusing on a number of actions to reduce the number."