Owners to be forced to sell empty homes in Edinburgh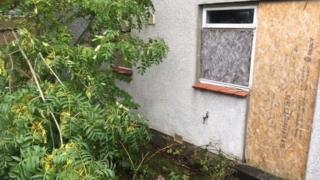 Edinburgh City Council is to push ahead with plans to force owners to sell up abandoned empty homes by using controversial legal measures.
The city currently has 1,267 properties which have been empty for more than 12 months, while 5,000 homes have remained vacant for at least six months.
Officers will draw up plans to pilot the use of Compulsory Purchase Orders to force homeowners to sell properties.
The council wants to free up housing stock.
Anti-social behaviour
Members of the council's Housing and Economy Committee heard from residents who have been forced to put up with an abandoned property next door for 20 years.
As well as broken windows, fly tipping and a garden that police refuse to enter - the property has attracted intruders, anti-social behaviour and has been labelled a fire hazard.
Kate Campbell, City of Edinburgh Council's housing and economy convener welcomed the agreement to push forward with action to bring homes back into use.
She said: "We heard about the impact on people's lives and we have an enormous amount of pressure on our housing market in Edinburgh. Bringing homes back into use is really important.
"I'm very pleased with this pro-active response and it's the first step to getting on and doing something about the problem of long-term empty homes.
"The committee were keen to be kept informed and I think this shows the level of concern and that we will be monitoring progress."
The council will present business cases for each CPO it wishes to pursue, and will need the approval of the Full Council and Scottish Ministers in order to proceed.
The council currently has four properties on a shortlist, which have been abandoned for at least 10 years. Council officers are currently dealing with a case load of 34 homes - putting pressure on owners to reintroduce properties.