Franz Ferdinand to headline Hogmanay party in Edinburgh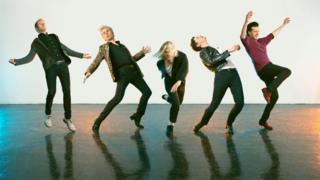 Franz Ferdinand are to headline this year's Hogmanay party in Edinburgh.
The Scottish group will perform at the Concert in the Gardens for the first time following the release of their latest album, Always Ascending.
They will be supported by Metronomy and Free Love.
Frontman Alex Kapranos said: "Hogmanay is the greatest party of the year and there is nowhere in the world like Scotland to celebrate it. It's going to be some night."
He added: "Just thinking about bringing in the bells in Edinburgh gets me excited."
Organisers of Edinburgh's Hogmanay said 10,000 tickets for the Concert in the Gardens will go on sale on Monday at 10:00.
Franz Ferdinand were scheduled to support Erasure at the event in 2003 but the party was cancelled due to weather conditions on the night.
Charlie Wood and Ed Bartlam, directors of Edinburgh's Hogmanay, said: "We're super-excited with the line-up for the Concert in the Gardens.
"Franz Ferdinand have had a fantastic year with Always Ascending and in this, their first appearance at Hogmanay, they're our top choice to get the crowd going into the midnight moment."