I lived in my garage to let disabled kids have a break in my house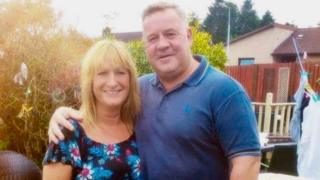 A bereaved mum from Fife has turned her home into a respite centre for disabled children and their families.
Jacqui Lowrie says she lived in her garage while her house in Glenrothes was transformed into a centre to give much-needed breaks to families caring for children with disabilities or life-threatening conditions.
The sacrifice is her own tribute to the memory of her daughter Charley, who lived with a devastating genetic disorder for 20 years.
Her new venture, Trusted Breaks, offers short breaks and day care to families going through the same experience.
Her house has been refurbished to meet the regulations required and is due to welcome its first visitors on 13 September.
The bungalow has two bedrooms, a wet room, wheelchair facilities and all the hoists and equipment to meet the demands of children with debilitating conditions.
And work has just been completed on a sensory garden.
Jacqui has spent her life caring for others.
She looked after her mother after she was severely brain injured in a car accident at the age of 47, and then for her daughter when she was born with a life-threatening genetic disorder the following year.
With Edward's Syndrome, Charley was not expected to live for very long. Only a tenth of children with the condition even make it to the age of 10.
But Jacqui refused to believe Charley's condition would lead to her dying at a young age.
She fought for the best equipment and gave her the best care she could.
In 2016, Charley died at the age of 20, one of the oldest known sufferers of the condition.
Jacqui told the BBC Scotland news website it was a miracle that Charley lived beyond her teens.
"The only explanation for how she survived so long was because of the love and care she got," she says.
"A few months later, I didn't know what to do with my life. Then I lay down and asked her for help and then it became clear to me what I needed to do."
At that point she decided she wanted to give the same to other families.
"I did a business plan in a few hours. And we have achieved it all on our own. I moved into my garage and at times we had no electricity, gas or petrol, but I knew this was what my purpose was - to change the way that care is delivered.
"I want to give that trust to people that they will get the care they deserve."
She knows that parents of children in similar situations find it difficult to trust others with their loved ones' care.
"The purpose of this house is to bring trust to families," she says.
"When you are a carer, trust is massive. You need to trust that your loved ones are safe and secure. I couldn't leave my daughter anywhere because I didn't trust people.
"I want these families to know they can trust us, to know we will look after them."
Work on the Trusted Breaks house is now completed and Jacqui says hundreds of referrals have been lined up by agencies looking to give respite to families.
They will offer breaks to children with profound complex needs, disabilities and additional needs.
Jacqui and her husband John have managed so far with donations of materials and time from local businesses but hope to start a charity which will also help parents get the equipment they need to care for their disabled children more easily so they don't waste precious time fighting for it.
Give Kids The World
The Give Kids The World resort in Florida was Jacqui's inspiration for Trusted Breaks.
It was started by an Auschwitz Holocaust survivor, Henri Landworth.
Jacqui went in 2013 with 20 families of people with a life-threatening condition.
The village is an 84-acre, non-profit resort that provides cost-free breaks to children with critical illnesses and their families.
My life journey
Jacqui's long-term plan is to build seven respite houses on a piece of land she has identified locally, and a respite activities centre in memory of her daughter.
"I believe this is my life purpose now, my life journey. For 20 years I had no support with my daughter.
"I have 20 years' experience and I know every obstacle and challenge these families face.
"I know I can help them so they don't go through that."