Ambulance overturns in Whitburn, West Lothian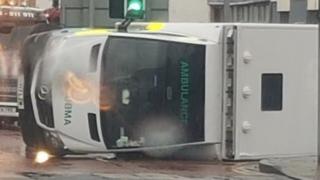 An ambulance has overturned after a two-vehicle collision in West Lothian.
Emergency services were called to the scene in Whitburn just after 06:40 but no-one was injured.
The ambulance rolled over after it was involved in a collision with a a Ford Ranger on East Main Street at Whitburn Cross.
The vehicle was not transporting a patient at the time. The fire service also went to the scene and helped police make the road safe.
The ambulance was responding to a 999 call to a patient in a non life-threatening case.
A Scottish Ambulance Service said: "Responding to a call out, an ambulance was involved in a collision with another vehicle at Whitburn Cross at 06:43.
"There were no injuries to the ambulance crew or the driver of the other vehicle.
"Another ambulance was quickly dispatched to deal with the original call in Bathgate."