Rare moth found in Edinburgh's Holyrood Park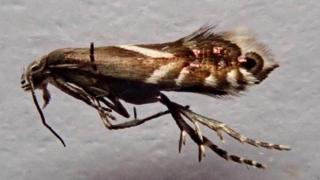 A rare micro moth has been discovered in Edinburgh's Holyrood Park, according to Historic Environment Scotland (HES).
HES said there had previously only been one record of Glyphipterix equitellain Scotland - on the scree slope below Salisbury Crags, dating from 1982.
The moth has only been recorded three times this century and only 20 times in total across the UK.
The latest sighting was made during a survey by Holyrood Park Rangers of a mossy plant called biting stonecrop.
Caledonian Conservation was given funding by HES to search for the rare insect.
The micro moth is known to lay its eggs in and feed on the biting stonecrop plant.