Hotel manager calls for Edinburgh city centre bus overhaul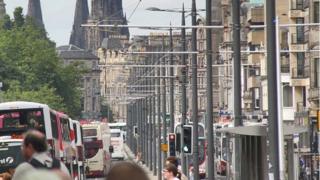 A hotel manager believes Edinburgh City Council's plans to look at transport in the capital should be used as an opportunity to overhaul how buses and coaches move around the city centre.
The council will launch an eight-week consultation next month.
One approach could see the city centre become "largely traffic free".
The head of the Mercure Edinburgh Princes Street Hotel has suggested a "series of hubs" to be developed where hotel guests can be dropped off.
General manager James Fraser said these would be located on the outskirts of the city centre with guests being taken to their hotels in "other forms of less impactful transport".
Currently, coaches dropping off hotel guests can cause traffic jams.
Businesses will be consulted as part of the exercise.
'Walk along bus tops'
Mr Fraser said: "I have long suggested that hubs be created to take traffic away from Princes Street and this has hitherto been rejected.
"The number of buses that travel on Princes Street is excessive and many of them could easily be re-routed.
"I cannot understand why express service buses route via Princes Street as I would have expected these out-of-city destinations depart from the bus station.
"The city service buses who regularly pass my hotel have on most occasions very few passengers and during peak times you could almost walk the length of Princes Street on top of the buses."
Mr Fraser said he believed to "fully pedestrianise Princes Street would probably not work", but claimed a rethink could have positive outcomes.
He added: "I would suggest creating a terminus at the west end for buses to loop round and return to the west of the city and do the same at the east end."
One idea touted by the council is to create freight hubs to reduce the impact of large vehicles in urban areas.
'Longer-term vision'
The council's prospectus on potential change adds: "Delivering these ideas would require a partnership approach with communities, small and large businesses, and industry bodies, which would be essential to ensure a successful transition."
The city's business group has welcomed the council starting a conversation about the future of how the city centre moves.
Liz McAreavey, chief executive of Edinburgh Chamber of Commerce, said: "It is early days for the project, which will look at air pollution, congestion, place making, visitor and citizens' experience in the city centre.
"Parts of Edinburgh city centre are dominated by vehicles, so it is right that the city leaders look at the longer-term vision for the city and how it continues to protect and improve its World heritage status.
"Both residents and tourists should enjoy clean air and a quality experience in the capital city. Business and the chamber will fully engage with the council as the project progresses."