Edinburgh Airport flight path plan resubmitted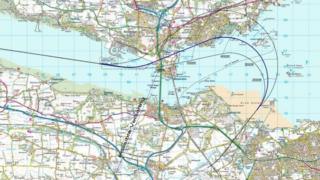 Edinburgh Airport has resubmitted a controversial plan to change a flight path after the industry regulator told it to do more work on the original proposal.
The change would see aircraft flying to the west of Cramond and along the Firth of Forth.
Locals opposed to the plan said the airport had not listened to their concerns.
Edinburgh Airport said it had consulted and listened to their comments.
Under the revised plan aircraft taking off eastwards would make a 20 degree turn - a 5 degree increase on the original proposal.
Edinburgh Airport said the airport's airspace was designed in the 1970s when it had about one million passengers per year - it now deals with 13.4 million passengers per year with flights to more than 150 destinations.
The airport said a change in the flight paths would allow the airport "to be more flexible with flights and maintain service levels while building increased capacity for future growth".
'Simply extraordinary'
It follows a consultation process which included two public sessions, a Facebook Q&A session, a social media campaign and information being sent to more than 12,000 homes, elected members and groups.
A report on the supplementary consultation has also been published detailing the responses of more than 1,100 people who provided feedback during the process.
Helena Paul, of campaign group Edinburgh Airport Watch, said: "Out of around 10,000 households the airport targeted, there were 1,167 responses.
"132 were broadly in favour, with 1,035 broadly opposed.
"Noise seemed to have been mentioned in just about every response.
"Despite this overwhelming majority against the proposals (which were originally intended to mitigate noise over Cramond, but where even there the majority were opposed (167 opposed out of total 226), the airport is determined to press ahead.
"Edinburgh Airport's ability to ignore the clearly expressed views of residents is simply extraordinary."
Ms Paul added: "Edinburgh Airport is not a local company, but is owned by GIP (Global Infrastructure Partners), an international asset management firm based offshore.
"It is clear that Edinburgh Airport is continuing to operate in the interests of its shareholders, while making multiple communities across the Lothians, Fife and Falkirk suffer increased noise and pollution that they have repeatedly and consistently told the airport they do not want."
Gordon Dewar, chief executive of Edinburgh Airport said: "Vast growth at the airport as well as the change in technology means we need to modernise our airspace to meet current and future demand, and it is a process many airports are looking at.
"Our approach at Edinburgh Airport must be one that is balanced between the needs of the airport and the economy and customers we serve as well as those of our neighbouring communities - we believe our proposals do that.
"Although there was no requirement to consult, we wanted to go back to our communities to listen to their valued feedback and understand their concerns."