Council leader sets out Airbnb licensing wish list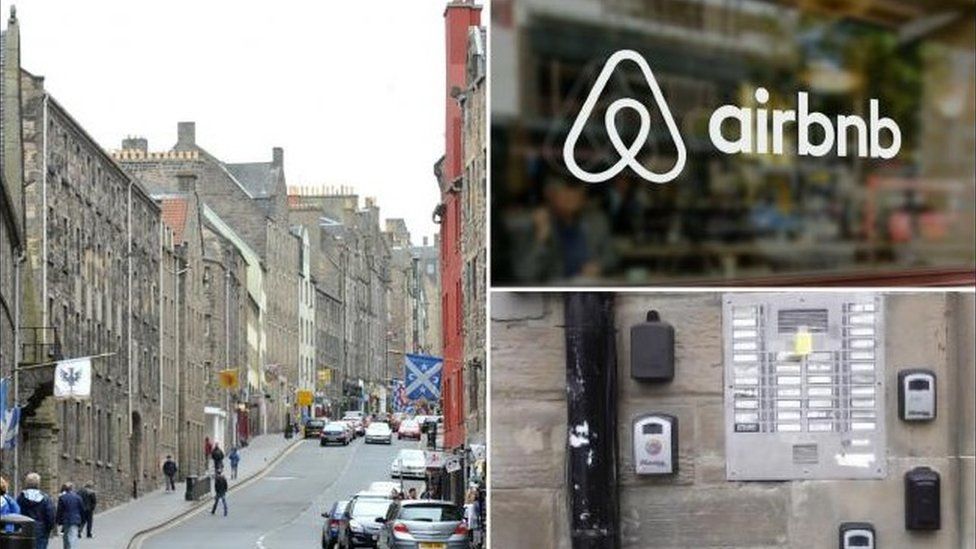 Edinburgh's council leader has pledged not to take a "sledgehammer approach" to Airbnb properties.
But Adam McVey said he wanted to ensure they did not disrupt communities.
He has outlined minimum standards they would expect from a licensing regime for short term lets - if permission was granted by the Scottish government.
A licence would be required for anyone either operating a property on a commercial or professional basis - or for at least 45 days a year.
The licensing rules would ensure any owners or operators were "fit and proper" and that certain safety standards were met.
The council also wants the ability to "control or otherwise cap the number of properties licensed across the local authority area or in specific areas of the local authority".
Mr McVey, said: "In Edinburgh, the city centre population are understandably looking for action. They are not looking for a sledgehammer approach - what they want is sensible regulation and control.
"I'm really grateful to the Scottish government for acknowledging that we have got an issue in Edinburgh and their willingness to come with us in exploring better ways to try and improve things in the city."
He added: "It's partly about where the properties are, but it's far more about how they are operated.
"When a short term let is run poorly, for a community, it can be incredibly disruptive. When it's run well through best practice, it can have a positive impact on the community."
The council is set to establish a team to deal with complaints about short term lets. The team would use powers the council currently has available to address any problems.
A report to next week's policy and strategy committee highlights that "the concentration in certain areas is eroding the sense of community in some neighbourhoods".
It adds: "Regular use of any tenement flat as a short term let is inconsistent with tenemental living, and often leads to anti-social behaviour and undue nuisance to other residents.
"It remains clear that the council lacks specific regulatory powers which would allow it to effectively respond to all the issues currently faced by the city."
Airbnb has proposed an annual 90-day cap on usage across the city, excluding the peak summer and festive periods.
Related Internet Links
The BBC is not responsible for the content of external sites.