Warning over inflatables at the beach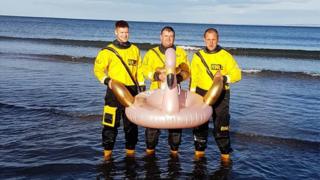 The lifeboat service is calling for people to be careful with inflatables after they were called out four times in eight days to them being blown off shore on the east coast.
The inflatables have blown off beaches at Longniddry in East Lothian, Kirkcaldy in Fife and twice from Portobello in Edinburgh.
One incident saw a young girl on an inflatable adrift at Longniddry.
Kinghorn Lifeboat said call 999 if you see an inflatable adrift at sea.
On Sunday an inflatable puffin was reported drifting off Portobello beach, 700m offshore.
A search was launched with Kinghorn Lifeboat, Fisherrow, North Berwick and Queensferry coastguard rescue teams, and the UK Coastguard rescue helicopter from Prestwick in a three-hour search.
After an extensive search, and following discussion with witnesses on the beach, the search was stood down.
Neil Chalmers, of Kinghorn Lifeboat, said: "Due to the incomplete information available, and the possibility of someone being in the water, an extensive search was launched. The coastguard will always err on the side of caution.
"These inflatable toys are not suitable for use at the beach and we would urge parents not to take them to the beach. If you do choose to take them to the beach, these toys should be securely tethered to the shore, and they should certainly not be used when the wind is blowing away from the beach.
'These toys are easily blown by the wind and can quickly move offshore, particularly with young children. The young girl at Longniddry had a lucky escape but had to be checked out by an ambulance crew once she made it back to shore.
"If you spot an inflatable drifting at sea, or one you are using gets blown away, you should report it to the Coastguard on 999 immediately, giving as much information as possible.
"This will mean the toy can be recovered and prevent a larger search being launched."