Culture secretary questions Edinburgh tourist tax plans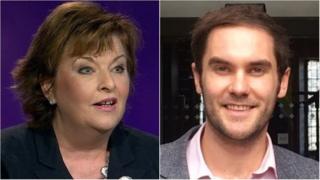 Scotland's culture minister has rebuked the leader of Edinburgh city council for suggesting a tourist tax could be in operation in the city in 2019.
The council says adding a £1 charge to hotel guests' bills could raise £11m to fund local services in Edinburgh.
Leader Adam McVey posted on Twitter that such a scheme could be "ready for implementation" within 12 months.
But Fiona Hyslop replied saying there is "no agreement with the Scottish government" to make this happen.
The council is keen to introduce a "transient visitor levy" amid rising visitor numbers. Such occupancy or "bed tax" schemes are common in many EU countries, and other UK cities including Hull and London have pondered the idea.
However, such a move has been opposed by business groups such as the Federation of Small Businesses, who call it "potentially damaging".
Ms Hyslop - who was reappointed as culture secretary in June's cabinet reshuffle - has previously stated that taxing tourists "doesn't make sense" in light of already high VAT charges on the industry.
Mr McVey, an SNP councillor who leads the Edinburgh administration in coalition with Labour, said "quite a lot of progress" had been made on the scheme.
After he posted on Twitter that plans for a tourist tax would be "ready for implementation" within 12 months, fellow SNP representative Ms Hyslop - who is currently in Japan on government business - replied by posting three question marks.
She wrote: "So let's be clear - you have no shared plans, no tourist business consultation and no agreement with the Scottish government."
Mr McVey replied that the council was "in the process of business engagement" and said there was no agreement with the government "yet".
He later added: "All 32 local authority leaders now stand with Edinburgh and other councils looking to pursue a tourist tax and momentum is building.
"Key hotel industry leaders in the city are also joining the conversation and giving their support to our efforts. This is a key part of our programme for the capital and I'm confident we will deliver a transient visitor levy in the best interests of our tourist economy and the people of Edinburgh."
The Scottish Conservatives - who oppose having a tourist tax scheme - said the exchange was "an embarrassing split right at the top of the SNP", with Ms Hyslop "slapping down" Mr McVey "in full public view".