More than 50 firefighters battle wildfire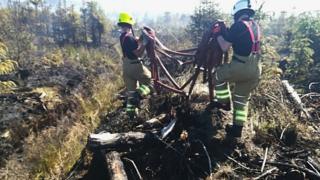 More than 50 firefighters are battling a wildfire in woods near a West Lothian village.
Crews were called to the blaze near Falla Hill Place in Fauldhouse at about 17:00 on Wednesday.
The Scottish Fire and Rescue Service said about 200m of woodland was alight and that the blaze was "proving difficult and challenging" to extinguish.
Nine fire appliances are currently at the scene.
The officer in charge of the incident, Mark Bryce, said the fire was affecting trees and heavy vegetation.
'Aggressive firefighting'
He added: "The terrain out here is proving difficult and challenging.
"We are using aggressive firefighting tactics to extinguish it as soon as possible.
"It is very hot out here, but our crews are working very effectively and I thoroughly commend them for that effort."
It comes as about 100 soldiers from the Royal Regiment of Scotland were deployed to help tackle fires on moorland to the east of Manchester.
Dozens of firefighters worked throughout the night to control the blazes, which are spanning an area of four miles.
Wing Commander Gary Lane said the troops travelled south last night.
He said: "They're now here this morning with the first elements of them now on the ground.
"They've been trained, they've got their kit ready to go and are out with the fire and rescue service in support of them. Their mission is to try and beat this fire."
Meanwhile, two fire crews are continuing to fight a blaze on scrubland near Grantshouse, in Berwickshire.
An area of about 50m is alight, with pumps from Coldstream and Haddington in attendance after relieving crews from East Linton and Dunbar, who had been there since midnight.
The Scottish Fire and Rescue Service said a wildfire warning would remain in place across Scotland until Monday 2 July.