Edinburgh's trams see passenger numbers and profits up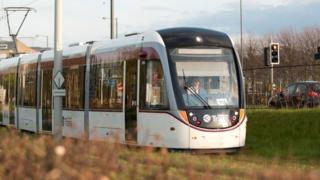 Edinburgh's trams recorded better than expected results last year with both passenger numbers and profits up.
The latest results show revenue grew by 24% in 2017 and the number of customer journeys was up by 19% to 6.6 million.
The service recorded a pre-tax operating profit of £1.6m, while City of Edinburgh Council had forecast it would bring in just £333,000 post-tax.
A new timetable has been credited with playing a major part in the success, with a 23% increase in services.
Operator Edinburgh Trams said the figures reflected the growing popularity of the city's tram system.
Managing director Lea Harrison said: "In 2016 we returned our first operating profit a year ahead of schedule and, in 2017, financial performance has continued to exceed expectations.
"The introduction of a new timetable at the start of the year played a major part in this success, with a 23% increase in services encouraging more people to take the tram when visiting the city for business or pleasure.
"We've also worked hard to reduce journey times, with a trip between Edinburgh Airport and the city centre taking less than 35 minutes."
Earlier this week, it was announced new designs are being drawn up for part of the planned extension of the tram network.
Council officials are working on a preferred option for the Leith Walk section following a workshop with local businesses and organisations.
These proposals, which include cars and trams sharing lanes on part of the route, will go out to consultation.