Men admit armed robbery at police officers' home in Edinburgh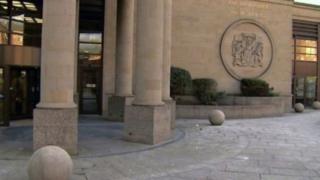 Two men have admitted breaking into the home of two police officers before threatening to cut them with knives and robbing them.
Colin Lindsay, 22, and Kevin Tully, 31, entered Evan Finnegan and Kirsty Ramm's Edinburgh house while brandishing knives and a knuckleduster.
Ms Ramm was 30 weeks pregnant at the time of the robbery on 12 February.
The men admitted taking items including jewellery, iPods, two TVs, an X-box and a car key. Sentence was deferred.
At the High Court in Glasgow, Lindsay and Tully also admitted an armed robbery at 69-year-old couple Derek and Mary Laing's home in Currie, Edinburgh, the previous day. They stole jewellery, a watch, a knuckleduster, two iPods, a knife, a set of playing cards, a sewing box and cash.
Prosecutor Stewart Ronnie said: "At around 9.30pm Ms Ramm let out one of her dogs and did not lock her back door.
"Shortly afterwards they heard a noise in the hallway and Lindsay, who was dressed in black, walked in holding a large knife and had a knuckleduster on his left hand."
Door kicked in
The court heard that Lindsay told the couple to stay calm and not do anything stupid. He then said: 'I'm going to chop you into bits. I've been told to come in here and chop you.'"
Lindsay then said: "I'm the hardest guy in this area," and kept threatening to chop Mr Finnegan.
Tully, who had a knife, then entered the living room. He had items taken from the house in his pockets.
The couple were taken upstairs to their bedroom, which had been ransacked, and told to wait in their bathroom for 45 minutes with the door locked.
Mr Finnegan looked out of the bathroom window and saw a silver Vauxhall Corsa drive off.
The same car was spotted at the scene of the robbery in Currie the previous night.
Mr and Mrs Laing were woken at 01:40 by their doorbell and then tapping at the side kitchen door.
Mr Laing opened the blinds and was confronted by Tully dressed all in black and wearing a balaclava and carrying what appeared to be a machete. Tully kicked in the door.
Heart condition
Mrs Laing unlocked the front door and was confronted by Lindsay, who was holding a piece of wood.
Mr Ronnie said: "He struck her on the head with the piece of wood. She pleaded with him to stop, telling him she had a heart condition. She believed he was trying to kill her."
Lindsay then began punching Mr Laing.
The robbers were found in a flat in Edinburgh, and a number of the stolen items were recovered.
Judge Lord Mulholland told them: "You have pleaded guilty to two disgraceful crimes. I've just listened to a disgusting narrative of what the families went through, the conduct you subjected them to."