TSB fraud fees victim 'fully refunded'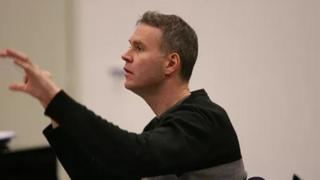 TSB has refunded £18,000 to a customer who was threatened with bank charges after fraudsters emptied his account.
Richard Lewis had been told he would be charged up to £30 a day if payments continued to leave his account.
He was one of about 1,300 customers targeted by fraudsters exploiting IT failures at the bank, which have been ongoing since April.
TSB said it was sorry for the distress caused to Mr Lewis and had now "put things right".
Financial regulators are currently investigating TSB after a change to its IT systems left customers struggling to make transactions and see their balances.
Speaking on the BBC's Good Morning Scotland programme, Edinburgh father-of-two Richard Lewis described how he was called by a TSB employee on 16 May and told an attempt to use his bank card had been made in Swansea.
He said that he was assured his cards would be cancelled and warned he would have no access to his account for two days.
However, the following day he received TSB confirmation that £18,000 had been withdrawn from his account.
In the weeks that followed, Mr Lewis, who works as a conductor and composer, repeatedly visited his local branch and made three separate complaints to TSB trying to have the issue resolved.
'More catastrophic'
He said: "I had the farcical situation of going to the TSB branch on the Monday after my account was cleared out to find that the branch members themselves, firstly, had to take the number of the fraud department from me, and, secondly, had to wait four-and-a-half hours themselves in the branch to get through to their own colleagues."
Mr Lewis had said he was increasingly anxious about meeting his direct debit commitments and other household expenses.
He added: "Were it not for the largesse of my mother and other family members, and fortunately my wife's account hasn't been in that position, it would have been far more catastrophic, particularly at the beginning of the month when one has a great deal of payments coming out.
"The concern is that now we're into its fourth week and we're coming now to the end of this month, and I'm thinking 'what's going to happen'?"
Out of pocket
In recent weeks, Mr Lewis received text messages and letters from TSB warning him that his account was overdrawn.
The letter from the bank said: "Unfortunately there wasn't enough money in your account to make the payments you arranged for today.
"Although your balance looks right, the money is not available to be used.
"As we have not been able to make these payments, we will be charging a returned item fee. Returned item fees are £10 per payment we do not make, up to a maximum of three fees a day."
TSB boss Paul Pester admitted to MPs earlier this month that fraudsters exploiting the computer failures had been able to access the accounts of 1,300 customers.
The bank has promised that no customer would be left out of pocket as a consequence of its IT problems and has promised to waive any current account overdraft fees and interest charges.
After being contacted by the BBC, a spokeswoman for TSB said: "We're really sorry for any inconvenience or distress that we have caused Richard.
"We have spoken to Richard to apologise and to try and put things right, and can confirm that he has been fully refunded.
"Our commitment is absolutely clear: no customer will be left out of pocket as a result of the recent IT issues."