Mossmorran chemical plant investigated over flarings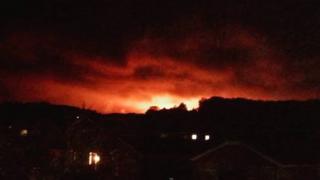 The Mossmorran chemical plant in Fife is to be investigated following a serious flaring incident.
Bright flames and black smoke were seen coming from the plant's main chimney during a seven-day incident last June.
Local residents also complained of extreme noise and vibrations during further incidents in October and March 2017 and again in May 2018.
The Scottish Environment Protection Agency (Sepa) and Health and Safety Executive will carry out the probe.
Operator ExxonMobil has apologised to residents. for the latest incident at the plant near Cowdenbeath.
It has already been issued with final warnings by Sepa over the June flarings.
Sepa chief executive Terry A'Hearn announced the investigation after attending a community meeting in Kirkcaldy.
'Action not words'
He said: "Every day, Sepa works to protect and enhance Scotland's environment and compliance with Scotland's environmental rules is simply non-negotiable.
"We were clear that unplanned flaring in June 2017 was preventable and unacceptable and we issued final warnings to both companies in that regard. Despite that, communities have endured further unplanned flaring in October, March and again in May.
"It's right that people want to know more about October, March and May flaring incidents. That said, people want action not words which is why I have come to explain these incidents remain under investigation and why we need to avoid prejudice to future enforcement action.
"We're listening to the community and it's important the companies do too."
ExxonMobil Chemical's Fife Ethylene Plant (FEP) is one of Europe's largest and most modern ethylene plants.
It was the first plant specifically designed to use natural gas liquids from the North Sea as feedstock, which is supplied by the neighbouring Fife Natural Gas Liquids plant operated by Shell.
In a statement, ExxonMobil said: "We are committed to being a valued member of the local community and were pleased to participate in today's community meeting. We are engaging positively with community representatives, other local bodies and the regulators to address any concerns about our operations.
"We comply with all applicable laws and regulations, and fully recognise the importance of regulating the operation of a plant of the scale and complexity of FEP in order to minimise the impact on the surrounding communities and the wider environment.
"Our operations are governed by our permit from SEPA and we have a longstanding record of good compliance with our operating permit. "We will be working with SEPA, the HSE and local interests to ensure our operating scope is clearly defined and understood."