Call for cobble work in Portobello to be scrapped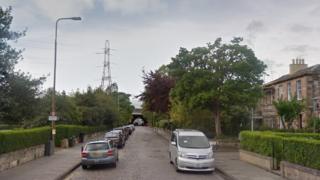 Residents are calling for plans to close an Edinburgh street for 14 months to be scrapped.
Work to cobble stones in Brighton Place, Portobello, will see four bus routes diverted.
Some residents also said they were not a suitable road surface for 21st Century traffic and the cost of repairing them was too much.
City of Edinburgh Council said cobbles were "very much a part of the historical significance" of the city.
Councillors agreed in 2016 to remove the cobbles in Brighton Place and resurface the road in asphalt after a survey by Portobello Community Council found 57% of locals backed it.
However, the decision was reversed in March.
U-turn
June Robertson, cafe owner in Portobello, said: "I think it's ridiculous that they're spending so much money - double the amount if they were going to tar it.
"The fact that it'll be closed for 14 months is going to have a terrible impact on Portobello High Street too."
She added: "Clearly the council are saying that it's tourists want to see cobbles. That's fine in the town.
"But what tourist is coming to Portobello to see cobbles? Hopefully they want to see our beach.
"I've already objected when the community council did a survey because having a business I've got to think of the buses that aren't coming down, and the people that aren't going to be coming to Portobello and the effect it'll have on my business.
"But now they've done a U-turn on that and they're not paying any attention to the people who're actually paying for it."
Asphalt streets
Terry Leventhal from the Cockburn Association, which promotes the conservation and enhancement of Edinburgh's heritage said cobble stones were a vital part of the city's history.
"Looking at the damage from the Beast form the East, you can find all sorts of potholes in the modern streets, asphalt streets," he said.
"But I defy someone to show me a setted street that's been damaged by the frost.
"Over time, the technology of the setted street is far more robust and far more capable of meeting the needs of the city and withstanding the climate.
"It's much more expensive to maintain than an asphalt street, but the longevity of that work is much greater.
"So what we really need to do is recognise that the floorscape is absolutely intrinsic to the character of the city and something that people the world over can come and enjoy."
Jodie Gordon, from Cycle Law Scotland, said: "For cyclists it's often the uncertainly because the streets aren't maintained very well.
"It's quite expensive for the council to maintain cobbled streets, compared to tarmac and we can see infill where they've attempted to do some patch repairs or even areas where there are cobbles missing, so as you're cycling along, as you hit that area, it can cause cyclists to come off their bike and sustain injury."
'Cultural significance'
Lesley Macinnes, Edinburgh's transport convener, said: "Just less than 5% of the streets in Edinburgh are setted so what we have to do is find a way to maintain those.
"We recognise setts as very much being part of the historical and cultural significance for this city and our policy is designed to maintain those streets and keep them in good condition for part of the modern life of Edinburgh.
"We have to decide what we value and I think the continuing development of Edinburgh as a historic centre which attracts many visitors over the course of the year and which delivers an excellent quality of life for the people who live and work here I think that's part of the important decision making.
"I understand some of the concerns that cyclists have but part of this new policy we have is that each project will take into consideration cycling requirements.
"So, for example, we may end up using flat-topped cobbles in certain areas to make it easier for cyclists to use."