MSPs told bank closure process is a 'disgrace'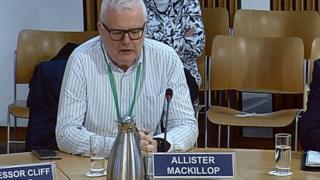 Edinburgh community leaders have labelled the consultation process ahead of bank branch closures an "absolute disgrace".
Chairman of Currie Community Council, Allister Mackillop, told MSPs it had just been a "tick-box exercise".
Holyrood's economy committee was taking evidence on the impact of closures on businesses and consumers in the wake of RBS' decision to shut 62 branches.
Bank of Scotland shut its branch in Currie last year.
Mr Mackillop, said the impact analysis carried out by Bank of Scotland when it shut its branch in the Edinburgh suburb was "purely 100% one-sided, all they were really looking at was footfall".
Witnesses at the committee including community representatives and trade unions said banks - including RBS and Bank of Scotland - have failed to properly assess and consult on their decisions to axe branches.
In 2015 the main high street banks signed up to a new protocol, later integrated into the Access to Banking Standard, aimed at ensuring customers are better informed about a branch closure and the reasons for it.
Prof Cliff Beevers, a community councillor in Juniper Green in Edinburgh, where a RBS branch was closed last year, said: "The access to banking protocol is worthless, it is just a piece of paper that allows the banks to pretend that they are consulting with communities.
"In my experience there was no consultation whatsoever.
"It was an exercise that was decided in the headquarters, and the group that came to talk to the community was simply told 'you're closing the branch and you're taking the ATM as well'."
Keith Dryburgh of Citizens Advice Scotland also expressed concerns about the process for consulting with communities and assessing the impact of closures.
"What worries me most about the business assessments and the Access to Banking Standard is that there is no prior consultation with community groups or indeed consumers or customers," he said.
"It's very much a business-led assessment, and I think going forward they actually need to consult with the community about what the alternatives are, what the impact is going to be."
'Commercially necessary'
Lyn Turner of Unite union said legislation was needed to address the issue.
"There needs to be a statutory regulation with regards to consultation for bank branch closures," he said.
RBS chief executive Ross McEwan has previously defended its closure of Scottish branches.
Earlier his month, he told MPs on Westminster's Scottish Affairs Committee that he recognised that customers were angry about branch closures but they were commercially necessary.
He said that change was difficult, but that no closures were "taken lightly".
An RBS spokesman said: "We understand closing a branch can be difficult for some customers and colleagues who work in these branches. It's not an easy decision.
"We have listened to customers, colleagues, communities and elected representatives and we have engaged and responded."
He said RBS had "invested to provide more ways to bank with us now than ever before, from local to face-to-face and digital options".
"In the six months since we announced the closure of branches in Scotland, colleagues have engaged with communities and individual customers to ensure that customers are able to choose the best banking options for them," he added.