Firefighters tackle house blaze in Haddington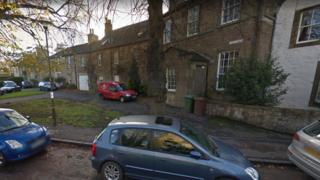 Firefighters are tackling a blaze at a house in Haddington in East Lothian.
The Scottish Fire and Rescue Service were called out to the property at the Sands just after 07:00.
A spokesman for the fire service said there were currently six engines in attendance.
Meanwhile, police in West Lothian are appealing for witnesses following a suspicious fire in the Ladywell area of Livingston. The incident happened at 04:20 at a house in Burnbank.
A door, a side window and an outdoor cupboard were damaged after an outside bin was set alight. The bin was also destroyed.
No-one was injured.
Anyone with information is asked to come forward.
Det Con Greig Muir, of Police Scotland, said: "Had the fire managed to spread and take hold of the house, then this could have been a far more serious incident. Thankfully, however, no-one was hurt.
"Nevertheless, we are treating this very seriously and would ask that anyone who remembers seeing any suspicious activity around Burnbank in the early hours of Thursday morning to contact police immediately.
"Similarly, if you have information that can help us trace the culprits then please also get in touch."