Injured kayaker rescued by lifeboat off Dunbar harbour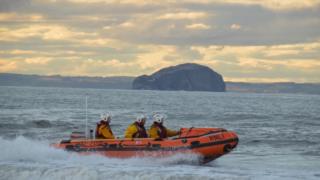 A kayaker has been rescued after dislocating his shoulder a mile offshore.
Two Dunbar RNLI lifeboats were launched after receiving a mayday distress call on Thursday evening.
The inshore lifeboat found the man and a woman he was with north east of Dunbar harbour in East Lothian at about 20:30.
The man, in his 40s, was lying over his kayak in the water, "clearly suffering from a shoulder injury", the RNLI said.
He was lifted into the lifeboat and taken to a waiting ambulance.
The female kayaker, also in her 40s, was able to make her own way back to the harbour.