Stabbed refugee's father criticises 'dirty' housing in Edinburgh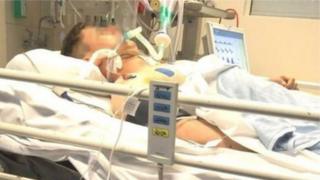 The father of a Syrian refugee stabbed in an alleged racially motivated attack has claimed his son faced being discharged into "dirty" housing.
Shabaz Ali, 25, remains seriously ill in hospital after an assault on 3 May in Upper Gilmore Place, Edinburgh.
Sivan Ali said he had been unable to gain access to temporary council housing to clean and furnish it.
However, the council said the accommodation offered to Mr Ali is clean and in a "liveable state".
City of Edinburgh council leader Adam McVey said he had spoken with Shabaz Ali's father and given him assurance that he could access the property on Thursday.
A 17-year-old has been arrested and charged with attempted murder following the incident involving Mr Ali.
His father said his son had serious injuries and was "deeply traumatised" but what has happened.
He is due to be discharged to temporary council accommodation but Mr Ali said housing regulations had prevented him from getting the key to clean and furnish it.
He told BBC Scotland: "I went to the house and there was only a bed and no other furniture and the carpet was dirty.
"So I said please can you give me a key so I can buy furniture before my son arrives from hospital.
"But they said no they can't give me a key because my son has to sign the agreement and they wouldn't let him sign it at the hospital."
Council leader Mr McVey said: "Along with other partners in the city we have done everything we possibly can to ensure that Shabaz Ali is given the support he needs in his current circumstances.
"I personally visited the flat he will be moving into this afternoon and found it to be clean and fully furnished. I also spoke to his father about any issues he had with the property and have since given him assurance that he will be given access to the property in the morning and at other times if required.
"This will allow him to add any final personal touches he feels he would like to add. I will ensure that Shabaz is fully supported when moves into the property and I wish him a full and speedy recovery."