Edinburgh could 'ban vehicles' in Low Emission Zone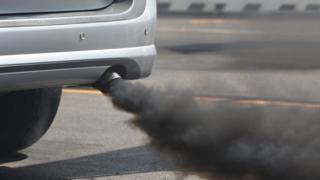 Radical plans aimed at making Edinburgh Scotland's greenest city have been unveiled - including a ban on some city road users.
Another option being looked at includes the setting up of so-called "freight hubs" outside the city for lorries.
A ban on regular vehicles that fail to meet emission targets and a review of how deliveries are made to homes and businesses are also being considered.
The proposals were put forward as part of the forthcoming Low Emissions Zone.
Local democracy reporter David Bol said Edinburgh hoped to become the next Scottish city to bring in an LEZ.
The Scottish government wants low emission zones introduced in Scotland's biggest cities between 2018 and 2020.
The capital follows Glasgow, where councillors were criticised by green groups for a "lack of ambition" for exempting a range of fossil fuel burning "problem" vehicles.
Green politicians in Edinburgh said they would welcome a city-wide LEZ.
Councillor Chas Booth, Green transport spokesman, said: "Dirty, polluted air is a silent killer in our capital and it's vital the council leads on effective action to end this public health emergency.
"The planned Low Emission Zone for Edinburgh should be ambitious and effective, and should apply to all the dirtiest vehicles - trucks, vans and buses - from the start with taxis and cars included very soon afterwards. Because air pollution doesn't stay in one place, the LEZ should not be confined to current pollution hotspots, but should earmark the whole city."
'Good impact'
Council leaders have argued the LEZ is necessary as the council looks to put citizen health and the environment top of its agenda.
Councillor Lesley Macinnes, the council's transport and environment convener, believes the LEZ would have a "massively good impact".
The council is yet to determine what the LEZ will look like.
But options touted at this stage include setting up "freight hubs" outside the city for lorries, banning regular vehicles that fail to meet emission standards or a targeted focus on the city centre. There could also be a city wide ban on some vehicles.
Councillor Macinnes added: "Glasgow's is already under way and we are aiming to be the next one on the list.
"We haven't defined how it's going to look, which vehicle categories might be impacted, what impact that will have on daily life - that will emerge as we go through this process.
"There is likely to be a knock-on effect on all sorts of other aspects of city life - how goods are delivered into shops and hotels in the city centre, how people get their parcels from Amazon - there's likely to be some kind of effect.
"At this point, I would be very cautious about saying what that might be because we don't know."
In a report to be discussed by the council's transport and environment committee on Thursday, the authority points out that poor air quality "disproportionately affects vulnerable people" and that evidence shows a wider range of other health impacts.
Councillor Macinnes said: "There are 200 premature deaths a year in Edinburgh alone.
"A lot of ordinary people on the street don't actually think that much about air quality. There is need to build context around this for people to understand why we are looking at it."
Glasgow City Council has agreed to introduce its LEZ focussed on buses at the end of 2018, with a second phase including trucks, vans, cars, taxis and motorbikes.
Edinburgh has six Air Quality Management Areas - five for traffic related problems in the city centre, West End, Corstorphine, Inverleith Row, Great Junction Street and Newbridge.
'Lack of detail'
The report added: "Vehicle type approaches consider the emissions contributions of various types of vehicles - cars, buses, light and heavy goods vehicles and taxis. Based on emissions standards, restrictions could be applied to ensure that only the cleanest vehicles operate in certain areas.
"The park and ride / public transport may replace trips previously taken by vehicles which do not meet the emission standards. Similarly, freight logistics hubs outside the city could be supported in order to incentivise lower-emission vehicles servicing Edinburgh."
The LEZ is likely to be enforced by installing a fleet of licence-plate recognition cameras and the final designs are set to be released in early 2019.
Conservative transport spokesman Councillor Nick Cook, criticised at a lack of detail in the proposals and said the party would reject a scheme that would revive plans for a congestion charge.
He added: "We all recognise the importance of improving air quality and in principle a Low Emissions Zone could play an important part in achieving this.
"However, there is a distinct lack of detail from the council around the practical operation of such a scheme in Edinburgh. Such uncertainty will no doubt be cause for concerns amongst the business community and those reliant on driving to make their living, such a taxi drivers."