Former soldier jailed for killing baby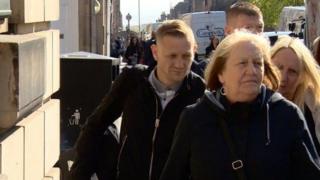 A former soldier who shook his girlfriend's five-month-old daughter to death has been jailed for seven-and-a-half years.
Hayley Davidson died in hospital from a serious brain injury after being found at a house in Buckhaven, Fife, on 14 February 2016.
Gordon McKay, 38, had originally been charged with her murder.
However, during his trial he pleaded guilty to a lesser charge of culpable homicide.
Sentencing McKay at the High Court in Edinburgh, judge Lord Uist told him his victim was an "innocent, defenceless child" and that he was guilty of an "extremely grave crime".
McKay, who had been looking after the infant, claimed he had found her cold to the touch on a beanbag in his living room.
He said he shook her three or four times to try to revive her.
Three days after she was found, Hayley died from a head injury in hospital.
Child killings in Fife
Hayley's case is one of a string of high profile child deaths in Fife in recent years:
Three-year-old Mikaeel Kular's mother Rosdeep Adekoya reported him missing before confessing to killing him and hiding his body in a suitcase in Kirkcaldy in January 2014.
Liam Fee was murdered by his mother Rachel Trelfa and her civil partner Nyomi Fee at his home near Glenrothes, Fife, on March 22, 2014.
Two-year-old Madison Horn was beaten to death by Kevin Park while he was babysitting her at her home in Kelty in April 2014.
Last year, BBC Scotland documentary Fife's Child Killings: The Untold Story investigated why the three children died despite social work involvement and revealed new evidence about the killings.
Her mother, Catherine Davidson, lived a few doors away from McKay and formed an "obsessive" relationship with him.
She left Hayley alone with him so she could get her other two daughters ready for a planned day out.
The court heard that Hayley had previously had hospital treatment for a broken arm on New Year's Day 2016 - three months into McKay's relationship with her mother.
McKay took responsibility for what he called the accident that caused it, and medics did not view the injury as suspicious.
And though social services were notified they did not intervene.
Protocol for Fife authorities has been changed as a result of Hayley's case.