School bans spray deodorant after false fire alarms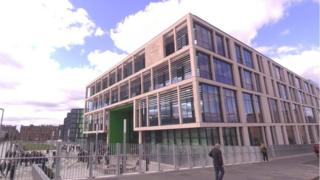 An Edinburgh headteacher has banned the use of spray deodorants after hygiene-conscious pupils accidentally triggered the fire alarm.
Aerosols are now outlawed at Boroughmuir High after several full evacuations when over-sensitive fire sensors mistook the deodorant for smoke.
The brand new flagship building opened on 21 February.
But it suffered a series of false alarms, including one on its first day.
Headteacher David Dempster has sent a letter to parents banning the sprays.
It said: "As you may be aware, we have had a spate of false fire alarms recently, resulting in full evacuation of the building.
"This is hugely disruptive to learning and teaching and the life of the school more generally.
"We are aware that some of these alarms were the result of smoke detectors being hit in error or overly sensitive smoke detectors in PE changing rooms being set off by spray deodorant.
"As a result of this over-sensitivity, we are asking that pupils do not use spray deodorants after PE in PE changing rooms or anywhere in the school.
"In fact, we see it as essential that we ban the use of spray deodorants in the school to mitigate any future possibility of fire alarms being set off in error.
"I would appreciate your support in this."
Exclusion warning
Pupils were also warned that any deliberate setting off of fire alarms with deodorants would result in severe action including exclusion and being reported to police.
A spokesman for City of Edinburgh Council said: "There have been issues with overly-sensitive sensors in the changing rooms so we have issued advice to pupils.
"All of the activations have been false alarms and we are looking we are looking at replacing the sensors."