Father killed baby because he could not stop her crying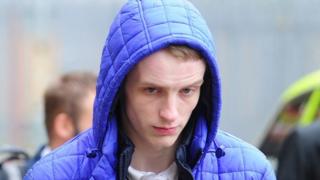 A father killed his three-month-old daughter because he could not stop her crying, a court has heard.
Traherne Williams threw Sophia Williams onto a couch at a family centre in Broxburn, West Lothian, resulting in catastrophic brain damage. She never recovered and later died in hospital.
At the High Court in Glasgow, Williams, 22, pled guilty to culpable homicide. He will be sentenced next month.
Prosecutors accepted a not guilty plea from the baby's mother, Shannon Main.
She had been charged with murder along with Williams.
The court heard the couple started dating in 2014 before Miss Main fell pregnant with Sophia the following year.
They initially stayed with William's mother, but later ended up at the Strathbrock Family Unit in Broxburn.
The centre is a homeless unit - the couple were staying there while waiting for their own tenancy.
Sophia was then born on 20 February 2016.
'Unresponsive for an hour'
On 28 May - two days before the fatal attack - the baby was taken to hospital as she had been sick for a number of days.
It was suspected she had a virus, but was deemed well enough to go home.
Two days later, the pair were at the unit with Sophia when Miss Main tried to feed her, but she was found to be "less responsive than usual".
She was later in her Moses basket and her parents could not rouse her.
Miss Main contacted St John's Hospital in Livingston after stating she had been "unresponsive for around an hour".
Prosecutor Angela Gray said: "When paramedics arrived, it was immediately apparent the child was extremely sick."
Sophia was rushed to hospital - it was initially feared she had meningitis.
Miss Gray added: "On asking Williams whether the child had been injured, the doctor was told she had fallen from a couch three or four weeks previously."
Williams was later described as "upset" - but medics felt he was being "defensive".
A consultant believed Sophia's brain injury was "highly suspicious of non-accidental injury"
On 4 June, Williams claimed he had to leave hospital due to "anxiety issues".
'Horrendous consequences'
Sophia never recovered and she was pronounced dead the following day. She was found to have suffered a "traumatic head injury".
The court heard Williams went with his mother to consult his lawyer on 3 August 2016 after a police investigation had begun.
He made various remarks to her including: "Maybe I held her wrong".
He was later questioned by police and denied assaulting his daughter deliberately.
Miss Gray said: "He stated he may have done something accidentally. He did not specify precisely what."
The prosecutor said the guilty plea was accepted on the basis Williams "became frustrated at his inability" to stop Sophia crying while alone with her on 30 May.
He was then said to have "forcibly threw her onto a couch" in the living room.
Ian Duguid, defending, told the court Williams found it difficult to understand how a "single reaction" could have "such horrendous consequences".
The QC added: "He had effectively projected the child onto a sofa or soft surface not realising he had inflicted such a catastrophic injury in the process.
"He was a first-time father obviously with little experience in looking after a child."
Mr Duguid also said Williams relationship with Miss Main "continues to this day".
Lord Matthews deferred sentencing for reports until 8 June in Livingston.