Former soldier jailed for raping schoolgirl in Fife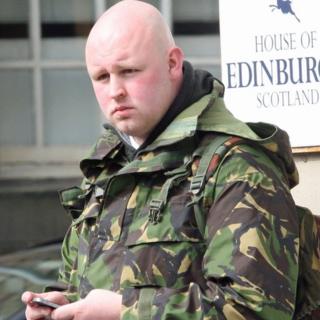 An ex-soldier who raped a schoolgirl he had "groomed" on Facebook and Snapchat has been jailed for five years.
John Fawcett, 26, used the social media networks to contact the girl before assaulting her at a location in Leslie, Fife, in October 2016.
The High Court in Edinburgh heard how Fawcett had first got in touch with the girl when she was aged 16.
The court was told that Fawcett "flirted" with her in the weeks leading up to the attack.
He sent her pornographic pictures of himself and arranged to meet her at a secluded spot.
The girl, who cannot be named for legal reasons, agreed to meet him, but the court heard she did not consent to having sex with him.
Forced to the ground
The young woman, who is now 18, told the jury that Fawcett forced her to the ground and restrained her before raping her.
Fawcett, who is known in his home village of Leslie as Rob, had pleaded not guilty to the charge. But jurors returned a majority guilty verdict after two hours.
Judge Lord Brailsford told Fawcett, who served with the Royal Electrical and Mechanical Engineers, that he had no other option than to send him to prison.
He added: "I take into account the fact that you have served your country. However, you have been convicted of a very serious offence.
"I must mark the seriousness of this offence by imposing a prison sentence. It will be one of five years."
Lord Brailsford also placed Fawcett on the sex offenders register.