Rescue bears from Albania arrive at West Lothian zoo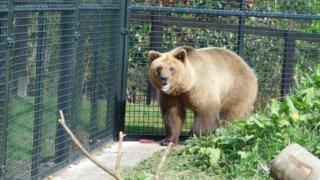 Two brown bears from Albania have arrived at their new home in a West Lothian zoo.
Henk and Eso will become a permanent fixture at Five Sisters Zoo after being rescued from a tiny roadside cage.
The siblings, who are thought to have been illegally poached from the wild after their mother was shot, were being used to attract tourists.
But they were severely malnourished and survived on scraps of food from passers-by.
Bosses at the West Calder zoo agreed to house the pair - who are thought to be three years old - and they have now been unveiled in their new enclosure.
Brian Curran, who owns the zoo with wife Shirley, said: "We are delighted to welcome Henk and Eso to the zoo.
"While they did not have a very good start in life, we are sure that the young bears will settle well in to their new enclosure and given the right environment and care, will become true bears."
A rescue organisation in Albania were monitoring the bears' situation as they were kept outside a roadside restaurant.
They were fed very little and their only source of water came from rain puddles in their cage.
When the organisation stepped in to take the bears, they weighed just 70kg (11 stone) - about half of their expected weight.
Last year, the bears - a brother and sister - were temporarily moved to Albania's Tirana Zoo, awaiting the correct transport documents to be granted.
They were later moved to the Natuurhulpcentrum rescue centre in Belgium while alterations at Five Sisters were made.
A statement from the zoo said: "Thanks to the dedicated team at the Natuurhulpcentrum, the bears are beginning their recovery process and they are looking so much better.
"Both have gained weight as they are now fed an appropriate diet and their fur is in a much better condition.
"They will be at the zoo to continue their recovery. They will have lots of room to roam, forage and swim in the pond - we can't wait to see this."
The bears are similar in appearance although Henk, the male, is lighter in colour than his sister Eso.
They will be kept apart from the zoo's other bears Carmen and Suzy at first, but they will be able to see each other through a fence.