Daryll Rowe admitted infecting men with HIV in Edinburgh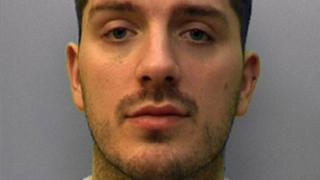 An Edinburgh hairdresser has been jailed for eight years for deliberately trying to infect four men with HIV.
Daryll Rowe admitted having sex with four men knowing he was HIV positive. One contracted the virus.
Last month, in England, Rowe was jailed for life for trying to infect 10 men. Five of them contracted HIV.
After being diagnosed with the virus in 2015, the 27-year-old began to have sex with men in a deliberate effort to infect them.
At the High Court in Edinburgh, Rowe pled guilty to four counts of culpable and reckless conduct and was placed on the sex offenders register for life.
He will serve the eight years concurrently with the life sentence given to him in England.
Lady Scott said Daryll Rowe had acted with "a total disregard of the consequences".
'Utter callousness'
She said it was with "utter callousness" and said for the victim who became HIV positive it had been "traumatic" with a "profound effect on his life".
He met men using online dating apps and entered into sexual relationships without disclosing his illness.
During contact with victims Rowe would either refrain from wearing a condom, or tamper with them, as he attempted to deliberately infect men.
Between October 2015 and December 2016 he continued to commit similar offences in Edinburgh, Sussex and north east England.
During last month's case in Brighton, the court heard he had sent mocking text messages after sex saying he was "riddled".
Rowe, formerly of Musselburgh, met men on the gay dating app Grindr and had intercourse with eight men in Brighton between October 2015 and February 2016 before fleeing to Northumberland where he targeted a further two men.
He sent another victim a text reading: "Maybe you have the fever coz.... I have HIV LOL."
Virus levels
Advocate depute Jo McDonald told the High Court in Edinburgh Rowe was diagnosed with HIV in April 2015 after he had been in contact with someone with the virus.
He was given information about medication and advised of the risk of transmission through unprotected intercourse.
The prosecutor said he attended a follow-up appointment and added: "At that appointment the accused was advised that his viral load, that being the term used to describe the amount of HIV in the carrier's blood, was in excess of 200,000.
"A high load is generally considered to be that over 100,000, although virus levels can be much higher and counted in millions."
At a further meeting a doctor noted that he was "not keen to take HIV treatment" as he disliked medication.
He was advised to use condoms at all times for penetrative sex and was told that his viral load was quite high.
Rowe had originally faced a total of 20 charges involving 12 different men.
As well as allegations of culpable and reckless conduct by exposing individuals to the virus in Edinburgh, Glasgow, Musselburgh and Burntisland, in Fife, through intercourse without using condoms they had included offences of attempted extortion.
'Devious predator'
It was alleged that he tried to obtain £1,000 from one man by threatening to expose him as gay and tried to get a further £1,000 from another man by putting photos and video of a sexual encounter on the internet. The Crown accepted his not guilty pleas to the further 16 charges.
Defence counsel Shelagh McCall said it was clear from medical notes that Rowe was not coping with the HIV diagnosis at the time but also believed he could be cured through alterative therapies, including a urine therapy.
She said: "He accepts his behaviour was reckless. It is fair to say he regrets it enormously."
Det Ch Insp Martin MacLean, of Police Scotland, said: "Daryll Rowe is a devious and deceptive predator who has shown absolutely no remorse for the extensive suffering and distress he has caused his victims.
"Since April 2015 he was fully aware of his illness, yet refused treatment that would ensure his own health and safeguard his sexual partners from the risk of infection.
"To make matters worse, he would then knowingly engage in sexual activity with individuals he met without divulging his condition.
"Rowe would then go to great lengths to ensure he put partners at risk of contracting HIV, demonstrating the callous and reckless nature of his character."