We need £100,000 in a week to save cancer teen Kira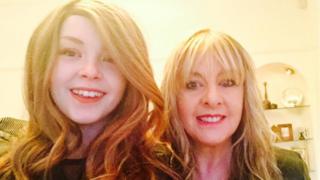 An Edinburgh family is facing a race against time to raise enough money to pay for lifesaving cancer treatment for their 14-year-old girl.
Kira Noble is booked in for surgery at the Memorial Sloan Kettering Cancer Centre in New York on 10 May, surgery she is not able to have in the UK.
Her family have had three weeks to raise £340,000 to get Kira to the US and pay for her treatment.
A Herculean effort has amassed £240,000 but the clock is ticking.
Kira has just finished her 19th round of chemotherapy for an aggressive neuroblastoma which was diagnosed in 2014 when she was 11.
She has had three major abdominal surgeries and faces a fourth in America next week.
Her mum Aud has been dumbfounded by the effort her community has gone to to raise the cash.
Kira's school, Firrhill High in Craiglockhart, has been involved from the start, led mainly by the pupils themselves.
Aud told the BBC Scotland news website: "I'm really overwhelmed by the response by everyone to our appeal.
"It was a race against time, but the adrenaline kicked in with everyone fundraising for us.
"I have been driving in and out of the hospital over the weekend and in the areas around where we live you could actually feel the buzz that existed in the community.
"I could see everybody running around the streets with their cake tins and everybody was involved - it was so clear to see.
"It's brought out the good old values in human beings, this shared goal of raising funds for Kira."
Firrhill High has sold badges and staged bake sales, hat-wearing days and sponsored events for Kira.
The pupils have raised more than £15,000.
Head teacher Graham Hamilton is proud of his pupils.
He said: "Schools all over the city of Edinburgh have been involved. Schools with no direct connection with Kira but who want to help.
"Kira's closest friends had the idea to kick-start the appeal and the children have driven it with their enthusiasm and desire to help someone in our community.
"They realised that if we all get together here there is an awful lot we can do and make a real big positive difference for a young lady that a lot of people have a real admiration for because she is such a fighter."
Aud thinks the children have been a credit to the community: "The kids themselves are effective contributors as a result of the curriculum for excellence that exists within schools.
"This is a real valuable lesson for schools that they are doing the right thing by these kids and creating great individuals.
"I hope these kids remember this situation for the rest of their lives and realise how powerful people power is. It's off-the-scale fantastic how much power people have when they come together."
'Kira's army'
Kira describes the support as having an army beside her. Now she is relying on her army to finish the job while she flies out for her surgery.
Aud explained: "To raise that kind of money in such a short space of time was a big feat but we are still not there yet and we need to reach £340,000.
"We do have enough to get Kira and I to New York and to pay for the surgery. But we have to plan for three to four weeks.
"We don't know what the future is going to hold. There are risks involved in the surgery itself so we have to build in a contingency plan.
"We will be going to New York but we have to ask friends and family and the general public to keep fundraising for us until we do reach the £340,000 target because that has been set for a specific reason.
"We just don't know if there will be a medical emergency we need to pay for."
The family is confident they will reach the target in time. For them there is no other option.
Aud said: "Kira was never in any doubt. She believed the whole time which was fantastic.
"I find it so heart warming, so touching, so empowering.
"It is driving me forward and making us unstoppable."