New sculpture by Kelpies artist unveiled in Edinburgh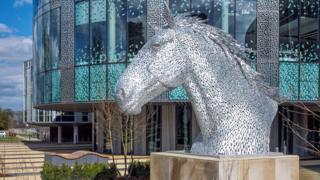 A striking new sculpture by the creator of the Kelpies has been unveiled at the University of Edinburgh.
The 15ft steel structure of a horse's head forms the centrepiece of the entrance way to a new hub for staff and students at the university's Royal (Dick) School of Veterinary Studies.
It was unveiled by the Princess Royal, the university's chancellor, at the opening of the building on Tuesday.
She also launched the school's newly-expanded equine hospital.
Weighing in at about a ton and a half, the steel structure, named Canter took a year from initial sketches to completion.
Andy Scott, the designer behind the Kelpies sculptures in Falkirk, said: "I chose a heavy horse to reflect the original intent of the school, which was set up to help workhorses in the early 19th Century.
"I am delighted with how it fits into the environment, blending with the unique architectural features of the building and the stone plinth."
Professor David Argyle, head of the veterinary school, described Canter as "an incredible piece of art".