Sheku Bayoh: Family sue Police Scotland's chief constable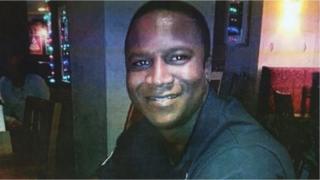 The family of a man who died after being restrained by police nearly three years ago are suing the chief constable of Police Scotland.
A lawyer for relatives of Sheku Bayou said they were seeking £2m from Iain Livingstone.
Sheku Bayoh, 31, lost consciousness after being restrained by officers in Kirkcaldy, Fife, in May 2015.
Solicitor Aamer Anwar said the family believed his death was unlawful and Police Scotland was responsible.
The civil action will be raised against Acting Chief Constable Iain Livingstone shortly before three-year "time bar" laws come into force on Thursday, exactly three years since the death.
The action - to be lodged at the Court of Session in Edinburgh - is believed to be the first time police in Scotland have been sued over an unlawful killing.
Mr Bayoh died on Sunday 3 May 2015.
Police had reacted to reports that a man - later identified as Mr Bayoh - was behaving erratically and brandishing a knife.
His family maintain he was not carrying a weapon when he was stopped, although the BBC understands a knife was later found nearby.
He was restrained by up to six officers using CS spray and batons.
A toxicology report later said that ecstasy had been found in Mr Bayoh's system, as well traces of psycho-stimulant A-PVP, sometimes called Flakka.
The Police Investigations and Review Commissioner (Pirc) filed a report on Mr Bayou's death but two years on, the Crown Office has still to decide what, if any action, will be taken.
The family has previously said it would call for a public inquiry if officers were not prosecuted.
A Police Scotland spokeswoman said: "We can confirm that legal papers have been received and as such it would be inappropriate to comment further at this time."