Cyclist Mark Beaumont leads Pedal on Parliament protest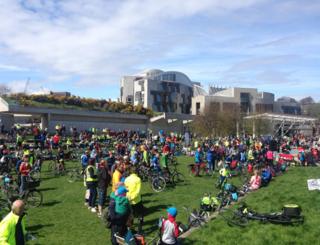 Hundreds of cyclists have taken part in a mass bike ride to the Scottish Parliament to demand safer road conditions for cycling.
Organisers said about 3,000 people joined the seventh annual Pedal on Parliament protest, although police put the figure at 1,000.
The cyclists are calling for more funding and safer street design.
The Scottish government said it had invested more than £217m in "active travel" since 2011.
Transport Minister Humza Yousaf said the government was also learning lessons from European neighbours such as The Netherlands over safety.
The event in Edinburgh began in The Meadows, led out by Mark Beaumont who holds the record for cycling 18,000 miles around the world. This year he cycled with his two young daughters.
He said: "While I believe progress has been made over the past seven years to make Scotland a safer country to cycle in, it is massively important that our MSPs understand how vital safer roads and better infrastructure are for everyone.
"It's only through a mindset of sharing roads and respect for everyone that we will see more adults and children feeling safe enough to cycle as part of their everyday lives."
The volunteers who run Pedal on Parliament believe there has been a lack of action to make Scotland's roads safer.
Sally Hinchcliffe, who has been involved with Pedal on Parliament since it began in 2012, said: "We've had enough of listening to politicians making assurances that things will improve.
"We need to move beyond the soundbites and judge them based on their actions. The evidence is out there, and other cities across Europe are already taking action. We need our representatives to hear our voices and make our country safe for everyone who wants to ride their bike."
Fellow organiser Alice Lyall said: "A few years ago I had a frightening fall on Princes Street when my bike wheel got trapped in the tramline.
"I was really lucky and walked away with a concussion. Since then a young woman in Edinburgh has lost her life in a similar incident, and hundreds of other people have been hurt.
"It makes me angry sometimes - it shouldn't feel this risky to get around my own city just because I'm not in a car. That's why I decided to help organise PoP this year, because our roads should be safe for all of us."
Similar demonstrations were planned in Inverness on Saturday and Aberdeen on Sunday.
The Scottish government said it was investing in "active travel" and learning lessons from other countries such as the Netherlands about the best ways to improve safety.
'Learning lessons'
Transport Minister Humza Yousaf said: "We have invested over £217m in active travel since the start of the 2011 spending review and, as announced in the Programme for Government, we have doubled the active travel budget from around £40m to £80m a year from 2018-2019.
"We are learning from other European neighbours, such as The Netherlands, how best to build active and healthy communities, where everyone can participate and benefit from.
"Our focus will be on making our towns and cities safer and friendlier with more segregated infrastructure, where appropriate, improvements to the public realm and putting people and place before motorised vehicles.
"This will allow us to continue to build an active nation, boosting investment in walking and cycling and ensuring that as many people as possible can enjoy the environmental and health benefits of active travel."