Life sentence for man who 'executed' neighbour over sex attack claim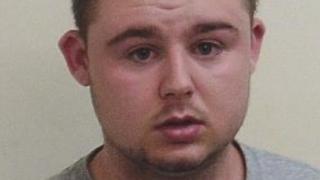 A Fife man who murdered a father-of-three because he thought he had sexually assaulted two 14-year-old girls has received a life sentence.
Greig Love, 20, who admitted killing Daniel O'Farrell, 21, was ordered to serve at least 14 years in detention.
He stabbed Mr O'Farrell repeatedly in Greenlaw Crescent, Glenrothes, Fife, on 9 September last year.
Lord Matthews told Love he should have gone to the police rather than "carrying out an execution".
The High Court in Glasgow heard that the first offender had confronted his neighbour Mr O'Farrell after it was alleged he had sexually abused two girls at a party.
Mr O'Farrell had denied the allegations.
Passing sentence, Lord Matthews told Love: "You have pled guilty to the brutal murder of Daniel O'Farrell by stabbing him repeatedly.
"The appropriate course of action would have been to contact the police, instead of carrying out an execution.
"His parents had the awful experience of burying their child, his daughters will grow up never knowing him and their lives will be blighted by knowing he was murdered."
Lord Matthews said that but for his early guilty plea, he would have sentenced Love to at least 17 years detention.
The High Court in Glasgow heard that Love went to Mr O'Farrell's house armed with two knives and stabbed him three times in the chest and back.
One knife was left embedded in his back and the blade of the other knife was left in his chest.
After the attack Love, who was upset and crying, went to his parents' home at 09:00 and confessed.
His father went to Mr O'Farrell's home and saw him lying crouched on the floor, dead.
He then took his son to Glenrothes police station where Love told officers what had happened.
Defence QC Ian Duguid said: "This is a rather sad and sorry case. An emotional over-reaction to Mr Love learning that there were two alleged sexual assaults on two 14-year-old girls in a house.
"This was the catalyst which brought about the death of this man. Mr Love became very angry.
"This is a 20-year-old first offender who has no record of acting in a violent fashion. He is very sorry for having reacted in this way. He acted out of character in extreme circumstances."