Fife councillor suspended from committee over comments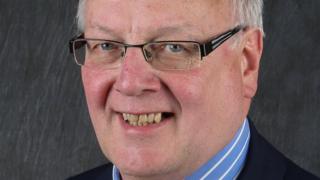 A Fife councillor has been suspended from a committee after making disrespectful comments about a taxi driver.
David MacDiarmid, who represents Howe of Fife, had said: "I don't know why two women would live with you never mind get married to you."
The SNP councillor was a member of a licensing committee which heard an application to renew a taxi licence.
Mr MacDiarmid's actions contravened the Councillors' Code of Conduct.
The code states that elected members must ensure they act fairly and also been seen to be acting fairly when taking decisions on such matters.
Mr MacDiarmid appeared before a panel at a public hearing at the Standards Commission for Scotland (SCS) in Glenrothes, Fife, on Wednesday, where he was suspended from Fife Council's regulation and licensing committee for two months.
'Unnecessary and gratuitous'
The finding and sanction reflected that the SCS determined he had breached the code and that his actions had fallen below the standards expected of those in public life.
It found his comments were "unnecessary and gratuitous", and had "no place in the decision-making process."
Mr MacDiarmid's representative, Mr Hugh Olson, Advocate, pointed out that his main consideration would have been the safety of the people of Fife and he has since acknowledged that the remarks attributed to him were unacceptable and out of character.
However, the SCS hearing panel adjudged that he had failed to observe the rules of good conduct, had acted disrespectfully towards the taxi driver and should have known the importance of acting professionally and fairly.
Mr Michael McCormick, chairman of the panel, said: "In this case, we were dealing with a councillor who has a great deal of experience in dealing with regulatory matters and he should have known how vital it is that not only did he act in a fair and impartial manner but was also seen to be doing so.
"It was very clear he had made insulting, personal remarks toward the taxi driver and as such, his actions brought the council into disrepute and risked that public confidence in its processes was diminished as a result."