Call for 'buffer zones' at Edinburgh sexual health clinics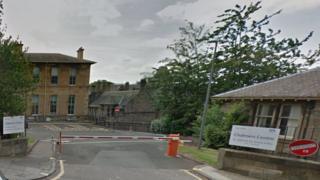 A councillor has called for "buffer zones" to "protect" women accessing sexual health services including abortions in Edinburgh.
Claire Miller's request follows vigils by a pro-life group outside Chalmers Centre in Lauriston Place.
She raised a motion at the council's South East Locality Committee.
The Society for the Protection of Unborn Children Scotland said the move would be against freedom of speech.
Ms Miller wants to help prevent patients feeling "harassed or intimidated" by the Helper's of God's Precious Infants.
Flash point
Speaking at Monday's meeting, Ms Miller said: "I brought this here because I became aware that there were vigils taking place outside clinics across Edinburgh in the south east locality where medical services are being provided to women including terminations.
"One of the reasons this came to my attention was because a counter vigil started outside the Chalmers clinic.
"While that has got the best of intentions, it starts to create a flash point around the clinic which is basically providing medical services.
"Unfortunately, the protest groups who are protesting against access to abortions design their vigils in such a way that it's very difficult for the police, without support from any other agency, to rule that those demonstrations are unlawful and move them on."
Ealing Council in London became the first authority in the UK to use anti-social behaviour laws to create "buffer zones" outside abortion clinics - using legislation available in England.
Cllr Miller hopes Edinburgh can become the first place to put "buffer zones" in place north of the border.
Speaking after the meeting, she said: "Patients say that prayer vigils outside clinics are upsetting, distressing and intimidating.
"I strongly believe we need to protect the right to access medical services without any distress or difficulty."
The motion was unanimously backed by the committee, and officers will put together a report on available options.
The Society for the Protection of Unborn Children Scotland said the motion was "completely unacceptable".
A spokesman said: "We are aware of a few groups that organise peaceful pro-life vigils outside facilities that perform abortions.
"Scotland has a proud history of respecting freedom of expression and we would hope that Edinburgh City Council continue to respect and protect this basic human right.
"For a local authority to consider introducing 'censorship zones' around abortion facilities is completely unacceptable.
"Such a move by Edinburgh Council would be an attack on freedom of expression."