Diane Hastings takes on London Marathon for Parkinson's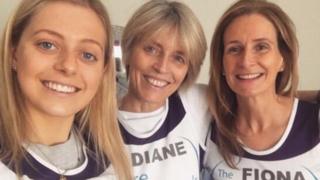 Parkinson's campaigner Diane Hastings is taking on the challenge of the London Marathon.
The wife of rugby legend Gavin will lead her team - "Shake, rattle and roll" - as they aim to cover the 26 miles for a cause close to her heart.
Diane was diagnosed with early onset Parkinson's when she was just 39.
After a surgical brain procedure reduced her symptoms dramatically, she is raising money for the Cure Parkinson's Trust.
The team of three from Edinburgh is made up of Diane, her daughter Holly, 19, and Diane's friend Fiona Maran - who came up with the idea.
Diane told BBC's Good Morning Scotland programme: "Last year when I was watching it on the television, I found some of the stories really inspirational, of the people competing in it.
"My friend Fiona and I were watching and every five minutes there were floods of tears.
"I said I would love to do something like that and she said 'well why don't we?'."
Diane admits that if she had known the work involved, she might not have been quite so keen to take part.
She said: "I had started off training quite well, but I hurt my hip so I think perhaps I might be walking part of the way - especially with the heat that is forecast on Sunday."
Diane's chosen charity, the Cure Parkinson's Trust (CPT), is dedicated to funding research into new treatments which will slow, stop and reverse the disease.
'Continual shaking'
Diane underwent Deep Brain Stimulation (DBS) surgery in 2016, a procedure which tries to treat the physical symptoms of Parkinson's. It involves electrodes delivering high frequency stimulation to targeted areas of the brain.
The operation was a huge success, allowing Diane to reduce her medication.
But the mum-of-two still struggles with the physical and mental effects of Parkinson's.
"A lot of people just think when you say you've got Parkinson's, it's a shaky arm or a shaky leg, but it's far more than that.
"You can wake up in the morning not really knowing how bad your symptoms are going to be that day.
"It can affect the way you walk, your mood. For me it was the continual shaking which made me lose about three stones in weight over the years.
"Since the operation I've reduced my medication by about 75%. It's had a great effect on my life, which is why I've decided to run the London marathon."
Diane has no expectations and just wants to enjoy the occasion.
"I'm just going down there to enjoy it - it looks fantastic and should be on everybody's bucket list.
"I think I am looking forward to just taking part, with the adrenaline going and people cheering. Gavin did it three years ago and he said the people singing and bands playing along the course just spurs you on."
Diane's husband Gavin Hastings is also a long term supporter of CPT.