Safety repairs school Oxgangs Primary to reopen for new term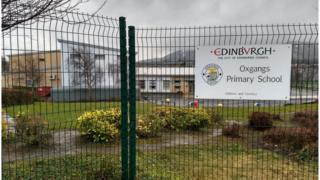 An Edinburgh school where repair work to the roof and suspended ceilings was found to be faulty has now passed a full independent survey.
Oxgangs Primary School will reopen on Tuesday as normal for the start of the summer school term.
Precautionary checks were also carried out on 16 other schools built under the same private public partnership.
These schools have also been given the all-clear and will reopen for the start of the new term.
A pupil was hit by a tile that fell from the ceiling of Oxgangs Primary in February and the roof was damaged by wind in March.
The council said it had been told by Edinburgh Schools Partnership (ESP) the building had since been made safe.
But inspections showed that this was not the case.
Two years ago, nine tonnes of masonry fell from a wall at the school - prompting a Scotland-wide review of building projects.
The incidents earlier this year involved loose flashing on the roof and internal ceiling tiles.
Chief executive Andrew Kerr said: "I'm pleased that pupils will be able to return from their Easter holidays to Oxgangs Primary and to other PPP1 schools as normal tomorrow.
"We have always stated that health and safety is paramount and our swift and decisive action has ensured that pupils - and their parents - didn't face any disruption to their education.
"Of course, I share parents' frustration that yet more issues have come to light and we continue to press ESP for a full explanation as to this latest failure."