Thieves smash up charity shop in £2,500 rampage in Fife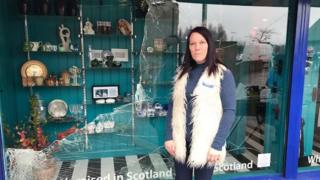 Thieves have broken into a charity shop in Fife causing over £2,500 worth of damage.
They smashed their way in through the window, damaged the till area and stole the charity collection can at the Chest Heart and Stroke Scotland shop at Raith Shopping Centre in Cowdenbeath.
It is thought the thieves targeted the shop at about 02:00 on Tuesday.
Manager Carol Cook said she was angry and disappointed thieves had targeted a charity shop.
'Angry and disappointed'
Ms Cook told the BBC Scotland news website how she was shocked to find the shop window had been smashed when she arrived at work with her colleague, assistant manager, Nicola Iztta.
She said: "We called the police and then were very wary about entering incase the thieves were still in the shop when we arrived at work.
"Whomever entered hurt themselves as there as blood on the floor.
"Its the first time this has happened at this shop and I'm angry and disappointed a charity shop would be targeted.
"We put all the profits back to Scottish people so its very hard to think £2,500 worth of damage has been done here."
She also urged people to bring donations in a bid to help recoup their losses.