Dog owners warned following sheep death in East Lothian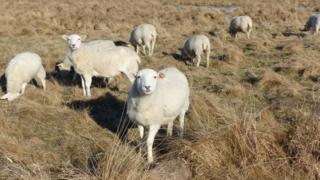 Dog owners are being warned to not walk their pets at the Aberlady Nature Reserve in East Lothian following the death of a sheep.
A special breed of sheep was attacked by a dog on the first week of March and died a few days later.
The sheep are used for grazing and contribute towards maintaining a suitable habitat for breeding birds.
East Lothian's countryside rangers say dog owners should follow guidelines for when walking near livestock.
Their key messages include never letting dogs worry farm animals, keeping dogs away from fields where there are lambs or any other young farm animals and keeping dogs on short leads whenever in a field.
Rory Sandison, reserves manager, Scottish Wildlife Trust said: "We care deeply about the wellbeing of our livestock and the Trust is appalled that one of our sheep was attacked and killed due to the reckless behaviour of the dog's owner.
"The trust and East Lothian Council want to reinforce the message that dogs are not allowed at Aberlady Bay and that people with dogs near grazing animals should adhere to the Scottish Outdoor Access Code.
"Sheep are prey animals by nature and even the presence of a dog will cause stress. This can lead to them losing condition and can even cause pregnant ewes to abort their lambs."