Kiri actress to play Miss Jean Brodie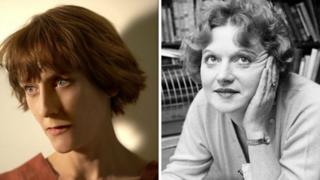 Kiri actress Lia Williams will star in a stage version of Muriel Spark's The Prime of Miss Jean Brodie in the 100th anniversary year of the author's birth.
It centres on a teacher at Marcia Blaine School for Girls in 1930s Edinburgh who ignores the curriculum and influences her pupils with her romantic view of the world.
The 1969 film starred Dame Maggie Smith and won her her first Oscar.
The school was based on Edinburgh's James Gillespie's School for Girls.
The new adaptation will be staged at the Donmar Warehouse and will be penned by Scottish playwright David Harrower.
It will be directed by Polly Findlay, who returns to the theatre after her acclaimed production of Limehouse.
Joining Williams in the cast is Rona Morison as Sandy, alongside Nicola Coughlan, Emma Hindle, Grace Saif, Sylvestra Le Touzel, Helena Wilson, Angus Wright and Kit Young.
Josie Rourke, artistic director at the Donmar, said: "In the centenary year of her birth, Muriel Spark's iconic novel The Prime Of Miss Jean Brodie has been adapted for the Donmar by leading playwright David Harrower.
"It's wonderful to have these two major Scottish voices join in concert on the Donmar stage.
"Directing the production, we herald the return of one our most significant and exciting directors, Polly Findlay, whose production of Limehouse was a resounding triumph last year.
"Lia Williams and rising talent Rona Morison lead the cast."
The Prime of Miss Jean Brodie will run from 31 May to 28 July.