Giant panda breeding programme at Edinburgh Zoo suspended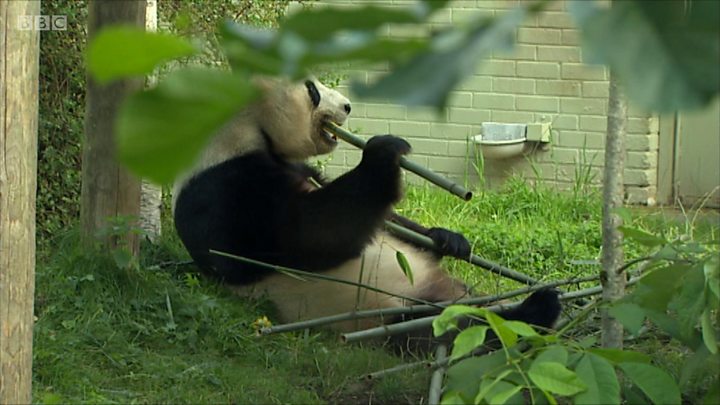 The giant panda breeding programme at Edinburgh Zoo has been suspended following years of failed attempts.
Tian Tian and Yang Guang will not attempt to breed this year, the BBC Scotland news website has been told.
Tian Tian has failed to produce a cub six times since moving to the Scottish zoo in 2011.
Zoo officials said they wanted to make "some enhancements to our giant panda enclosure" before attempting future breeding.
An Edinburgh Zoo spokeswoman said: "We will not attempt to breed our giant pandas this year because we want to further assess the incredibly complex and unpredictable breeding process.
"This pause, which is supported by our giant panda team and other key specialists, will allow us further time to consider the scientific data, our own experiences and those of colleagues around the world, including the latest thinking on giant panda accommodation.
"In the meantime, the pause will also enable us to make some enhancements to our giant panda enclosure which would not have been practical either during or between breeding seasons.
"We very much hope Tian Tian has a cub in the future and will be thrilled if this happens. Even without breeding success as yet, RZSS is playing a crucial role in safeguarding this magnificent species by helping fund conservation projects in China alongside international partners."
Libby Anderson, animal welfare charity OneKind, said: "OneKind is pleased to hear that the attempts to breed a cub in Edinburgh have been put on hold, and that the pandas will not be subjected to invasive artificial insemination procedures again this year.
"OneKind is opposed to breeding wild animals in captivity and we have always believed it was misguided to make repeated attempts to breed more captive pandas in Scotland.
"These individuals will never return to the wild, or improve protection for the wild population in their native habitat.
"We think that now is the time to leave the pandas in peace and we hope that the suspension will continue beyond the time required to improve their enclosure."