Leith trams survey questions the need for extension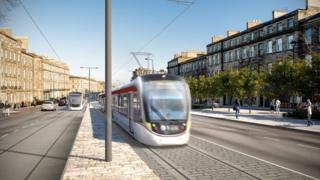 Plans to extend Edinburgh's trams from the city centre to the Forth have been questioned by a survey in Leith which suggests most people are happy with existing transport in the area.
Councillors insist the line is needed to cope with rising resident numbers.
However, they accept there will be 18 months of disruption to businesses.
The survey suggested that 91% of people were satisfied with transport provision in the Leith area, where the £165m tram extension is planned.
But 59% of those questioned in the independent survey, carried out by Progressive Partnership, agreed that the line would benefit Leith. A total of 58% of respondents said it would be easier to get around and 42% said it would be good for local business.
Lessons learned
Councillors argue the extension is needed from the city centre through Leith to Newhaven because of the population growth forecast.
They have promised that lessons have been learned from the current tram system which was £400m over budget and delayed for years by bitter legal disputes.
They are launching a public consultation exercise to establish how best to manage 18 months of disruption along the route, including 1,000 utilities changes and exhuming 200 bodies from a site beside a graveyard.
There were 400 men, women and children exhumed from a burial site beside South Leith Parish Church on Constitution Street in 2008 during tram works
It is thought that thousands more bodies were buried between the 14th and 17th centuries at the site.
If the project is approved towards the end of the year, members of the public, the business community and a wide range of stakeholders will help shape plans to take the tram to Newhaven.
Survey results:
59% agreed that the line would benefit Leith
58% said it would be easier to get around
42% said it would be good for local business
91% were satisfied with current transport provision on Leith Walk
When asked what would improve public transport provision in Leith Walk, 38% said "introduce a tram service"
56% said they were likely to use the new line
Among those who did not think Leith would benefit, concerns focused on disruption, delays and congestion during construction
A consultation exercise will start later this month.
Views will be sought on traffic management and phasing currently proposed, including proposals for the closure of Leith Walk northbound and a single lane open southbound, along with the closure of sections of Constitution Street, for approximately 18 months during construction.
The plans include support for businesses who will be most affected by the works, including provision for parking and loading between worksites, an Open for Business campaign, on-street customer service staff, logistics hubs and financial support.
Views will also be sought on the plans for the permanent design of the street along the route, including a dedicated public transport-only lane on Leith Walk for trams and buses during morning and evening rush hour.
The council's transport convener Lesley Macinnes said the council had been working closely with the local community and its partners over the traffic plans and looking at ways to support local businesses.
'Real concerns'
"These plans have been developed taking on board lessons learned from the first phase of tramworks and the current traffic management arrangements in place around Leith Street," she said.
"The recent Leith survey showed that a majority of residents think trams will make a positive difference to Leith. However, there are clearly some very real concerns about disruption and congestion during construction.
"This consultation gives people the chance to help shape how we manage things if and when work gets under way. We hope as many people as possible will have their say, either at one of our four information events or via the consultation hub, which will host the consultation from 19 March."
The consultation will include:
28,000 letters delivered to residential addresses in the area surrounding the planned tram route
Four public information events
Four local business forums
Four community council briefings
The research was carried out on three different stretches of Leith Walk and involved 368 interviews.