Historic bridge set for major works in Edinburgh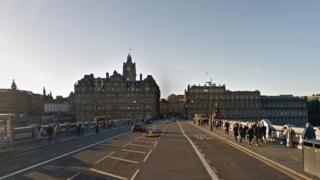 Edinburgh's historic North Bridge is set to undergo a major programme of refurbishment.
A series of structural repairs will help safeguard the long-term use of the Grade A-listed bridge.
It was built in 1896 as a city centre link between the Old and New Towns.
On Thursday, the City of Edinburgh Council's transport and environment committee will consider proposals for the £22m project, including steelwork repairs and repainting.
The project will benefit from £10m funding approved in the 2018/19 budget, set by the council last week, adding to an existing £12m allocated under the Capital Investment Programme 2018-2023.
Bridge longevity
Lesley Macinnes, transport and environment convener, said: "This historic bridge is a familiar and much-loved focal point in the city centre, and it's clear that it requires some much-needed restoration.
"I am delighted that, thanks to prudent financial management, we will be able to progress with a series of repairs, ensuring the longevity of this iconic structure."
Inspections to North Bridge carried out in 2014 found a number of defects, resulting in the removal of loose material and installation of netting to make the underside of the bridge safe.
Assessments have confirmed that there has been no impact on the bridge's load carrying capacity.
Work is due to start in the summer if the project gets the go ahead.
Core Works to North Bridge
Structural steelwork repairs.
Grit blasting and repainting of the structural steelwork.
Repairs to the cast iron façades.
Grit blasting and repainting of the cast iron façades.
Repairs to the underside of the bridge's concrete deck.
Improvements to the structural drainage systems.
Replacement of expansion joints.
Restoration of, and repairs to, the King's Own Scottish Borderers War Memorial (located on the east plinth of the bridge's south pier).
Installation of permanent platforms to improve access provisions for future inspection and minor maintenance.
All temporary scaffolding required to access the structure.