Man attacked by gang with workmen's tools in Bathgate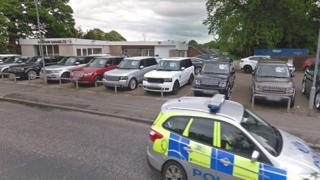 A man has been "viciously" attacked by a gang wielding workmen's tools as he walked in West Lothian.
The 25-year-old man was assaulted on Edinburgh Road in Bathgate at about 08:30 on Thursday.
He was walking east past the Kaim Park garage when he was assaulted by three men who got out of a white Ford Transit flatbed truck.
They attacked with workmen's tools and took some of his possessions with them when they left the scene.
PC Tony Gilhooley, of Police Scotland, said: "This was a vicious attack on a man simply walking along the road. His injuries were not serious but he was understandably shaken up by this unprovoked and unexpected attack.
"Edinburgh Road would have been busy with traffic and we would expect many people to have seen the incident and we are asking them to please contact us."