The Museum of Childhood in Edinburgh sets reopening date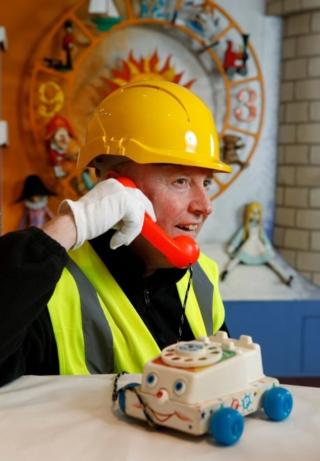 The Museum of Childhood in Edinburgh is to officially reopen next month after its first major refurbishment in 30 years.
Curators have been unpacking 60 rarely-seen objects following a five-month refurbishment of the ground floor ahead of the opening on 3 March.
New items at the Royal Mile venue will include retro toys such as the Buzz Lightyear action figure from 2000.
There will also be the Fisher-Price Chatter Telephone dating to 1979.
Donald Wilson, culture and communities convener at City of Edinburgh Council, said: "With over 225,000 visitors every year, the museum is one of Edinburgh's flagship venues.
"Its impressive collection of more than 60,000 objects reflecting childhoods from the 18th Century to the present day has been recognised as of National Importance by the Scottish government, which has generously funded much of the refit through Museums Galleries Scotland grants.
"The refurbishment will allow us to tell the story of childhood in new ways, and engage young people in Edinburgh in the history of these objects and how they relate to Scotland's shared social history. We look forward welcoming visitors to the reopening in March."
Gone to schedule
Gillian Findlay, curatorial and engagement manager for Museums and Galleries Edinburgh, said: "Staff, volunteers, students and supporters have dedicated time, resources and funding to transform this space into a gallery which is fun and fit for families to enjoy in 2018.
"We are so grateful to them all and thrilled that the works have gone to schedule."
Opened in 1955 as the world's first museum dedicated to the history of childhood, the star attraction relocated to its current position on the Royal Mile to accommodate the growing collection, and in 1986 the museum expanded again into adjacent buildings.
The refurbishment will see new cases, floors and lights installed and objects displayed as the ground floor is opened into an interactive space, with dedicated zones focusing on memories of life at home, in school and at play.
An area for film and a digital photo album will also be launched, focusing on how children have grown up in Edinburgh over the decades.