Abandoned cars on fire in derelict robot car park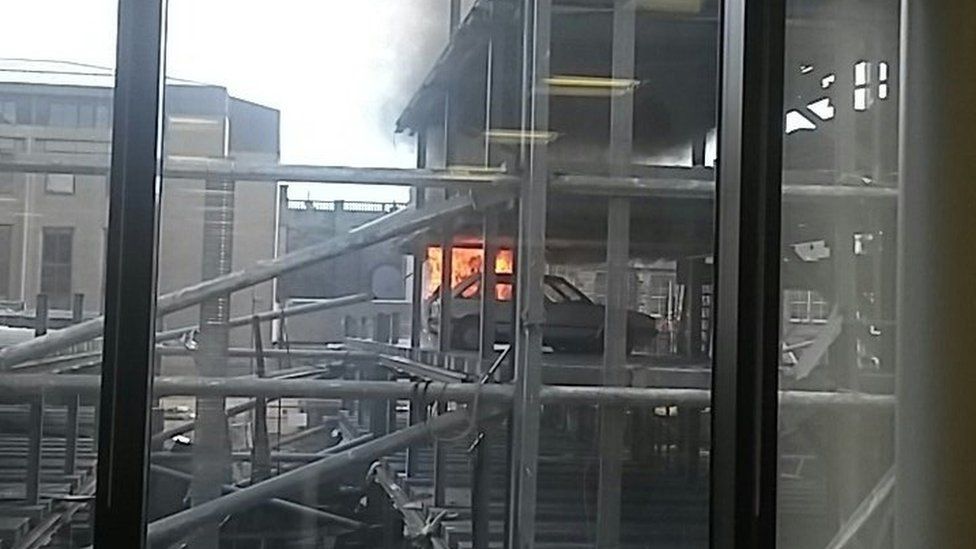 Firefighters have been tackling a blaze which broke out among abandoned cars which had been left inside a derelict robot car park in Edinburgh.
Crews were called out following reports of vehicles on fire at the Morrison Street site.
The £5m Autosafe SkyPark is currently being demolished.
Last month it emerged that eight cars had been left abandoned since the company which operated the car park went into receivership in 2003.
Images of the vehicles were posted on sharing site Reddit by a worker in an office building facing the site.
This sparked a number of theories about why they had not been removed.
One former employee suggested that they could be old vehicles which were bought by the car park's former operators to test out the robot equipment.
The building was based on similar technology used in China, Japan and Australia, but it was said to be difficult and expensive to maintain.
Drivers would pull into bays and leave their cars to "robots", which would then scan the cars and take them to the nearest space via turntables and lifts.
Work is now taking place to turn the site into an office development.
The Scottish Fire and Rescue Service said it was called to the fire shortly after 11:00 on Wednesday.
A spokesman added: "There were no casualties. Crews left the scene at 12:23 after ensuring the area was made safe."
Related Internet Links
The BBC is not responsible for the content of external sites.